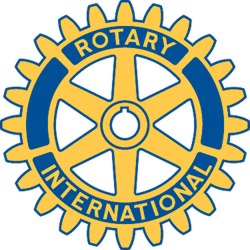 Rotary Club of New Bedford, MA - Weekly GAM
GAM...A nautical term describing the exchange of news between vessels departing from and returning to their ports...
DECEMBER 20, 2012

This Week
An unusually small, but extremely ehthusiastic turn-out, wrapped dozens of gifts, and may accompanied Santa Bill to the Bridge House where toys and clothing items were distributed to the young boys and girls who live there, much to their delight. Robin and her team of shoppers and wrappers deserve much credit for this very important annual event showing that Rotary has a heart.
In other business activity Marc happily announced the successful $2,400.00 Breakfast with Santa placemat ad sales and sponsorship income. Twenty-six supporters accounted for that success and were thanked for their important contributions. Out thanks go too, to Marc who did most of the work on that fund-raising project.
Robin proudly announced the results of the Battle of the Bells as a winning Rotary collection of $1,234.00 vs Kiwanis take of $950.00 on Dec. 1st.As promised, rewards in the form of Dunkin Donuts gift cards were given to Mark, Carole, Kathy, Me, Ron, George, Lisa, Charlene, and Bill R.
In a brief report from Alan about the Christmas Party at CCNB, he confirmed that complaints made by our attendees would be brought to the attention of the management right after Christmas.
VISITORS AND GUESTS - Once again, Joy came along and pitched in with the Bridge House efforts, and soon-to-be-Rotarian Gilbert Reis did the same.
NEXT WEEK - We're in for a rather long recess with no meetings planned for Wednesday, December 26th; or Wednesday, January 2nd, 2013, but keep in mind that January 9th will be our Yankee Swap meeting so put that on your calendar and join us that day for this annual gift snatch event.
Odds & Ends
Robert A. Spavento is hereby posted for membership for the second time, and hopefully will be inducted along with Gilbert Reis on Wednesday, January 16th.
January board meeting will be held at Better Community Living on Tuesday, January 8th.
While there will be no meetings - look for fun and fact GAMs over the next two weeks.
And, in case the world ends tomorrow (Dec. 21st) - "Good Bye" - and if it doesn't end, "Merry Christmas!"
One More Thing
In the words of Golda Meir - "I have always felt sorry for people afraid of feeling, of sentimentality, who are unable to weep with their whole heart. Because those who do not know how to weep do not know how to laugh either."
Orren Robbins
GAM Editor