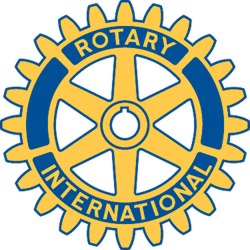 Rotary Club of New Bedford, MA - Weekly GAM
GAM...A nautical term describing the exchange of news between vessels departing from and returning to their ports...
December 6, 2012

This Week
Wow! I don't think that Santa's helpers, themselves, could have done as good a job in the same amount of time as we did, setting up the Salvation Army Toy Shop this year I've seen this project done many, many times in the past twenty-five years, but never seen a year with the enthusiasmand efficiency that our Rotarian elves exhibited today! Might be delicious Pizza and yummy cookies and pastries that got us going at a speed that was almost too fast to stop! It was truly Rotarian Community Service and Service Above Self at its best!
By the way - this was a Million $$$ Meal event, so present or not we're all obliged to pay as though we were there. Thanks.
VISITORS AND GUESTS - Alan's wonderful wife Joy, who worked just as hard as anyone there.
Next Week
A very special event - Christmas Party - Wednesday, December 12th , 12:15PM, at the Country Club of New Bedford, 585 Slocum Road, North Dartmouth. Host Alan has planned a wonderful diner event but needs a head count. If you are going, and if you have a guest, please let him know ASAP - His e-mail on Wednesday has details including a look at the extensive menu! See you there, we hope!
Odds & Ends
Reports are that Sunday's Breakfast with Santa was a very successful event - Thanks to everyone who helped with ticket sales, placemat ads, sponsorships, and working the event itself. Thanks to Santa, cooks, members and family members, and the YMCA for making this annual breakfast as great as it was.
Thanks to Stu for being attendance and $$$s taker - filling in for Treasurer Paula - today!
Don't forget Bridge House visit on Wednesday, December 19th. Check with Robin or Kathy if you'd like to help with the shopping, wrapping, and delivery that day.
100%-ers for November. Toni, Cheryl, Dan, Robin, Kathy, George, Lisa, Alan, Carole, Dr. Bill, Michelle, Stu, Pamk, Rich, Kristen, Bill R., Tom, Orren, Marc, Linda, Mark, Nancy - Twenty-three members - I think that's an all-time record!
December Birthday - Just one - Michelle on the 16th -
Well, it seems that we won the Battle of the Bells, hands down! Kiwanis was only able to muster enough help to man only one storefront. We should get $$$ figures soon. Thanks to all members who participated including friends, Interact, Fairhaven and Dartmouth Rotarians.
One More Thing
In the words of David Lloyd George - "Don't be afraid to take a big step if one is indicated. You can't cross a chasm in two short jumps."
Orren Robbins
GAM Editor