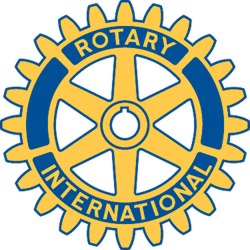 Rotary Club of New Bedford, MA - Weekly GAM
GAM...A nautical term describing the exchange of news between vessels departing from and returning to their ports...
NOVEMBER 29, 2012

This Week
Considering the round-about detour-filled effort necessary to find it, a fine turn-out for a delicious lunch at Cotali Mar, thanks to the planning effort of Linda. Anyone not getting their fill of soup, chicken, fried fish, veggies, rice and rolls - simply could not have been trying.
After lunch a tour of the spacious and elegant Cotali Mar banquet second floor was offered and taken by most. Looking for a great spot for your special event> Cotali Mar sure fills the bill.
VISITORS AND GUESTS - With us today were new-member-to-be Gilbert Reis, and Kristen's daughter Mia.
ON THE BUSINESS SIDE - Robin made a final appeal for presently uncommitted members to sign up for Saturday's Battle of the Bells where there are still a couple open spots despite the support being given us by the Fairhaven and dartmouth Rotary Clubs. If you can help, give her a call.
And, don't forget BREAKFAST WITH SANTA on Sunday, December 2nd, at the YMCA. Santa will be there, and it woudl be great if you would be there too. Michelle will be there at 8:00AM to organize volunteers for the 9:00AM opening.
Next Week
Our Wednesday, Cecember 5th meeting will be our annual toy shop set-up at the Salvation Army HQ. This is a lot of fun and another great opportunity for the Rotary Club of New Bedford to full-fill it's pledge of Service Above Self", not to mention the yummy and plentiful Pizza (provided it gets ordered this year)!
Odds & Ends
Tuesday, December 4th - BOARD MEETING at Better Community Living, 4:30PM, Ventura Drive just north of VF Outlet on Faunce Corner Road.
CHRISTMAS SOCIAL - Wednesday noon, December 12th, at the Country Club of New Bedford, 585 Slocum Road, North Dartmouth. Food, fun, and frolic, for sure! Remember, this is NOT our annual Gift Swap - that will come later.
BRIDGE HOUSE - Annual gift wrap an delivery scheduled for Wednesday, December 19th at our regular meeting. Tom is organizing a "chorus" (if I heard him correctly) in conjunction with this Holiday visit. Call him for more info if interested.
And, speaking of Tom, Happy $$$'s this week of $39.00 will be the start of our joining in support of Hurricane Sandy Flood Damage families - District 7950's collection effort for the entire month of December.
One More Thing
In the words of Henry Wadsworth Longfellow - "Each morning sees some task begun, each evening sees its close. Something attempted, something done, has earned a night's repose"
Orren Robbins
GAM Editor