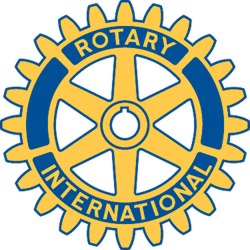 Rotary Club of New Bedford, MA - Weekly GAM
GAM...A nautical term describing the exchange of news between vessels departing from and returning to their ports...
October 26, 2012

This Week
Ah!... What a restrful presentation by Cheryl's guest speaker Jolene Lynch Marinone - founder and owner of "Life in Balance" Yoga and Healing Arts Studio, of Mattapoisett. She addressed dealing with stress and the connection between mind and body, high anxiety and down time before giving us a breathing exercise that I could have fallen asleep while participating in, but fortunately had to stay awake to take notes for this GAM. I do think I did hear a bit of snoring by someone at the back table though.
If you'd like to learn more about relaxing - contact Jolene at 508-728-0473 or look her up at www.lifeinbalanceyogahealingarts.com
This also was the day that donations to Mercy Meals and More were gathered up by Community Service Chair Robin, loaded on Dr. Bill's truck and delivered to MM&M after our meeting. Thanks to all who participated.
VISITORS AND GUESTS - In addition to Jolene we were joined this week by Gilbert Reis, Administrator of Hathaway Manor Extended Care Facility, who just might become our next member, I've heard!
Next Week
It's Halloween (if we don't get blown away) and we're having a party!!! Cheryl promises a ton of fun with "games, contests and competition" and probably some tricks and treats, too. Everyone is encouraged to wear masks, costumes and anything outrageous that they wish to add to the fun. Be there - noon - October 31st at the Wamsutta!
Odds & Ends
Pres. Kathy pointed out that a good time was had by all at the Business EXPO meeting last week and thanked all who stood watch at the booth.
Robin reminded about up-coming events like the Battle of the Bells on Saturday, December 1st - Salvation Army toy shop set up event on December 5th - Bridge House gift wrap on December 19th - and a special need for help at the MOLife Food Pantry on Monday, November 19th, helping out with distribution of Thanksgiving Turkey Dinners. A sign up sheet went around and will be out again next week.
Marc put in a plug for Breakfast with Santa placemat advertising sales and passed out forms with that information. Also - something new - A $200.00 sponsorship program that will net participants breakfast for two families and recognitionin Standard-Times advertising. A big round of applause for Rich Medicke who has signed up to the first sponsorship already! Nice going!!!
George reported that the November 2nd Rotary Night at the Providence Bruins event is moving along very nicely and thanks to Dan Berry a bus will be provided so that all kids will be going along together.
Bill R. passed out tickets for a November 6th event at the Texas Road House where from 4-10PM 10% of all food salels will be donated to the UMass Dartmouth Rotaract Club.
Also - thanks to Ron K. for taking attendance in Paula's absence, and Happy $$$'s taker this week - George Costello
One More Thing
It has been said that the moon could not go on shining if it paid attention to all the dogs and wolves who bark and howl at at!
Orren Robbins
GAM Editor