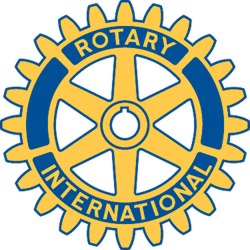 Rotary Club of New Bedford, MA - Weekly GAM
GAM...A nautical term describing the exchange of news between vessels departing from and returning to their ports...
October 18, 2012

This Week
While some of this weeks MEEting, may have been more of an EAting, for some of us a GREEting was the order of the day as we shared an EXPO booth with New Bedford's semi-pro Bay Sox baseball team and their friendly whale.
It was a bit like old home week running into old friends and former Rotary Club members the likes of Gary Schuyler, Linda Morad, Jerry Wheeler and Geneva Anthony; and nice, too, that other Rotarians like Roy Nascemento, Cheryl Barett and Ellen Gitlin were also present representing their own businesses and jobs.
And a delicious lunch choice of turkey or seafood was enjoyed by all including Pam's guest, Bay Sox owner Pat O'Connor, Alan's wife Joy, and David's guest Jerry Wheeler. Thanks to all who 'manned' the booth, especially Toni who stayed on duty while the rest of us dined and dallied.
Coming Attractions
Diistrict 7950 Paul Harris Foundation Dinner - Thursday, November 15th at the Venus De Milo in Swansea. Social hour starts at 5:30PM - Dinner at 7:00PM. Word is that RCNB will pick up the tab, or at least a part of it, for anyone who'd like to go. Always a great event!
Next Week
We'll be back at the Wamsutta. Don't forget - If you made a pledge to Robin of a donation for Mercy Meals and More, please bring your gift/gifts to the October 24th meeting. Dr. Bill will be on hand with his truck to take all items to their destination.
And the following week, October 31...Halloween will be the theme of the day with all members encouraged to join in the fun by wearing costumes, and especially by having at least a mask!
Odds & Ends
Very ODD that this should END so abruptly, but can't think of much else except " Thanks to Stu for taking attendance ( and our $14.00); and that Happy $$$$s this week were scooped up by Bill R." ....and, oh yes! Still an opening for someone to step up and become the new GAM editor.
One More Thing
Recipe for happiness: Take equal parts of faith and courage, mix well with a sense of humor, sprinkle with a few tears, and add a helping of kindness for others. Bake in a good-natured oven, and dust with laughter. Scrape away self-indulgence that is apparent, and serve with generous helpings. You'll be glad you did!
Orren Robbins
GAM Editor