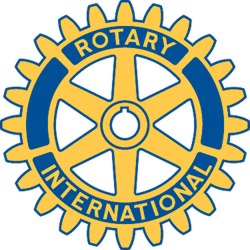 Rotary Club of New Bedford, MA - Weekly GAM
GAM...A nautical term describing the exchange of news between vessels departing from and returning to their ports...
October 11, 2012

This Week
What a great day! Even with several of our most regular regulars missing, we still had an almost full house with seven visitors - count 'em - seven!
Our featured speaker today was Patricia Raskin - on the subject of 'positive living' - an enthusiastic radio talk hostess whose message of such themes as "Under promise - Over deliver" and "Believe! and it will happen" is aimed at helping small business owners to become positive role models, and help their businesses to grow.
With a philosophy very similar to our Four-Way Test Patricia sums it all up with awareness of - Purpose, Planning, Passion, Patience and Prayer. She will be happy to meet with other groups, and of course delighted to work with anyone who would like to know more about her positive living success strategies. She can be reached at 401-398-8114 or patricia@patriciaraskin.com.
VISITORS AND GUESTS - In addition to Patricia we were joined by her friend Nancy Thomas; also, Pam and Rich Deceault, both Kilgore, Texas Rotarians (Pam a New Bedford native); David Feller, New Hampshire Rotarian; Tracey Cordeiro, guest of Tom; and nice to see Ron Melbourne along today, too.
Next Week
Don't forget - we will meet at White's of Westport where we will share a booth at the Business EXPO with the Bay Sox baseball team, and where we will enjoy a pre-Thanksgiving 'harvest lunch'. Still time to sign up for an hour at our booth #47, and Pres. Kathy still seeking donations of wine/etc to make up a prize basket for that event.
Odds & Ends
Past Pres. Ron M. gave a brief presetation of his interest in supporting an Interact Club start-up at the Global Charter School in New Bedford. When he asked for a Rotarian to volunteer to head up this effort he was very pleased to get an "I will" from Ellen Gitlin. More to come on this to be sure.
Pres. Kathy noted that tickets and posters for Breakfast with Santa have been printed and are now available, and also announced a $200.00 sponsorship program underway for that popular event. Like to boost your business? Check it out!
September 100%-ers: Congrats to Cheryl, Kathy, Alan, Paula, Carole, Ron K, Michelle, Stu, Rich, Tom, Orren, Marc, Linda, Mark and Nancy.
Happy $$$s today grasped by Mark!
One More Thing
In the words of General Douglas MacArthur: "In the central place of every heart there is a recording chamber. So long as it receives messages of hope, beauty, cheer and courage, so long are you young. When the wires are all down and your heart is covered with the snows of pessimism and the ice of cynicism, then and only then, are you grown old."
Orren Robbins
GAM Editor