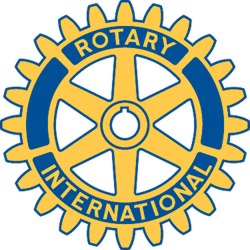 Rotary Club of New Bedford, MA - Weekly GAM
GAM...A nautical term describing the exchange of news between vessels departing from and returning to their ports...
October 5, 2012

This Week
A delightful, entertaining program introduced by October program organizer Cheryl, brought Jim Mahaney, photographer and member of the Whaling City Camera Club, with a helpfull look at what we can do with our cameras.
Jim, through a series of photograph presentation, showed us how to improve the quality and depth of our camera work with three things to be aware orf - composition, simplicity and placement - explaining each one in detail wih illustrations from his collection of prints. He also (in a very Rotarian way) pointed out that the Whaling City Camera Club is well known for it community service, too - that of serving as photographers for various community events.
In other business, Pres Kathy introduced Alan, who in turn introduced Lynn Donohue of Brickl by Brick (one of very few women brick layers) who had been recognized as RCNB's Community Volunteer at the District 7950 Community Volunteer Recognition Night on September 19th - telling about her remarkable efforts over the past many years.
And Linda had the pleasure of inviting Stu up to the front and presenting him with a check for $750.00 to be donated to the United Way in his name as recognition for his many years of service to that organization fund raising programs.
VISITORS AND GUESTS - In addition to speaker Jim and award winner Lynn, we were pleased to have Jim's wife Carol with us today.
Next Week
Cheryl will introduce Patricia Raskin, whose program will be a helpful and informative look at "Positive Living". Little advance notice of what should be lot of fun - a Halloween party at out October 31st meeting. Start thinking of your attire!
Odds & Ends
Lots going on - Robin is organizing the YMCA Share the Harvest work project on Saturday morning, October 6th - Still time to join that group - just show up in your work clothes!
Rob also reminding those of us who have pledged support for Mercy Meals and More be sure to bring their donations to the RCNB meeting on Wednesday the 10th. Dr. Bill will be bringing his truck to load up for the delivery of those goods that afternoon.
Pres. Kathy has confirmed that we will be sharing a booth at the October 17th Business EXPO at White's with the Bay Sox! Should be a lot of fun. Volunteers to sign up for helping to support the booth are still needed, and don't forget -- RCNb weekly meeting will be held that day at White's with a harvest luncheon.
Tickets to BCL's Sweet Temptations event on October 12th were given to all ten Rotarians who raised their hands - no need for a chance drawing. See why it's important to come to meetings?
October Birthdays - Best wishes to Linda, Oct. 2nd; Charlene, Oct. 14th; and Jim O. on qthe 27th.
One More Thing
According to William Morris - "If your lips would keep from slips, five things observe with care; To whom you speak; of whom you speak; and how, and when, and where."
Orren Robbins
GAM Editor