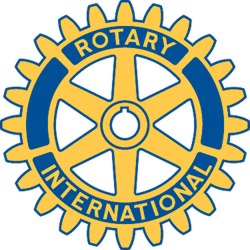 Rotary Club of New Bedford, MA - Weekly GAM
GAM...A nautical term describing the exchange of news between vessels departing from and returning to their ports...
September 28, 2012

This Week
A very interesting Million $$$ Meal meeting at the home of the "Sharing the Harest Community Farm" division of the YMCA on Gulf Road in South Dartmouth.
A good turn-out enjoyed a pizza and pop luncheon, an introduction to the history of the Farm by Executive Director Derek Heim, and an (almost) hands on tour of the fields themselves, by Farm Director Daniel King.
Derek noted the growth (in more ways than one) since its inception in 2006, to a farm that now covers over five acres, has 50,000 plants providing nearly 15,000 pounds of nutritious food for twenty-five area food pantries through the United Way's Hunger Commission. An interesting aspect of this important needy family food supplier is that the food grown and harvested there by a team of over 3,000 volunteers, is cleaned and packaged to the same level as similar foods are in a supermarket, before delivered to the food pantries.
Farmer Dan King then took us right up to the edge of the five acre field with a tour of that huge area, a report on the types of vegetables grown and the skill required tio make the best use of the land to keep producing food over the longest period of production possible.
You may have missed it in the Standard-Times, but Derek and Dan also reminded us that Rich Medicke plays an important part in the success of the Share the Harvest project, and proudly noted that for his effort he had recently been recognized as the "Hometown Hero" by Bank5 and WSAR in their recent annual recognition announcement.
......and oh, by the way . . . this was a Million $$$ Meal so present or not, every member needs to anti up for this good cause.
VISITOR - Alan was accompanied by his delightful wife, Joy.
Next Week
October program chair person Cheryl has scheduled an interesting talk by Jim Mahaney, treasurer of the Whaling City camera Club, who will give us a close look at the basics of good photography, and an introduction to the Whaling City Camera Club itself. Got a camera? Don't miss this!
Odds & Ends
Board meeting Tuesday, October 2nd, 4:30PM at Better Community Living.
Still time to sign up for District Success Day seminar at White's on October 6th. Great opportunity to get involved in District activity and increase your Rotary service skills. The Club will pick up the tab for you!
Pres. Kathy reported that the Fall River Rotary Club will not be having a booth at the October 17th Chamber EXPO at White's. She is hopeful of finding another partner such as the New Bedford Chamber to share a booth and cut costs.
Robin is still working on the Community Service project for Mercy Meals and More. If you have made a committment for a donation, please plan to bring it to our meeting on October 10th.
Also - Robin still working on a "Work the Farm" day on Saturday, October 6th. Sign up sheet will be passed around again at our meeting on the 3rd, or call Robin at 508-993-9383 to join in.
One More Thing
In the words of Will Rogers - "There is nothing as easy as denouncing. It don't take much to see that something is wrong, but it does take some eyesight to see what will put it right again."
Orren Robbins
GAM Editor