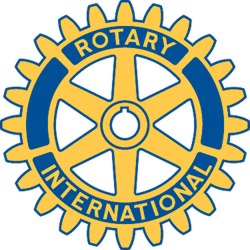 Rotary Club of New Bedford, MA - Weekly GAM
GAM...A nautical term describing the exchange of news between vessels departing from and returning to their ports...
September 20, 2012

This Week
Hmmmm, let's see...... I could sum up today's meeting in one sentence - for instance - "Small group, pledge, song, food, Happy $$s, Four Way Test." - but I won't. Oops, looks like I did.
After the bell, Pres. Kathy announced that the Club Assembly planned for today under Community Service Chair Robin, had to be cancelled as Robin had called in sick just shortly before. Hope that it is not too serious Robin, and we'll look for your Assembly another day. For members - your help in coming projects is important, so please - if you haven't yet volunteered - look again at last weeks GAM for a refresher and for sign up information.
We were reminded by Pres. kathy about the Chamber Business EXPO at White's on October 17th. We will be sharing a booth with the Fall River Rotary, or perhaps even with the New Bedford Chamber of Commerce if they are interested. Booth volunteers are needed to share in one hour shifts. Please sign up with Kathy for an hour of service.
Next Week
Wednesday, the 26th - Our meeting will be a Million $ Meal gathering at the YMCA Share the Harvest Farm on Gulf Road in South Darmouth. Your RSVP is needed so that the Y can be properly prepared for our lunch. Please email Robin at rcabral@developmentconsultingsolutions.com , and don't forget to mark your calendar so you won't be caught by surprise when you enter an empty Wamsutta room.
Odds & Ends
Looking ahead - Still time to book a spot on the District's Rotary Success Day seminar on Saturday, October 6th - 8:00AM to 1:00PM. Includes breakfast, lunch and a lot of good information about Rotary. 5 spots still available on the RCNB's tab. Sign up with Pres. Kathy.
George is working on this year's District 7950 "Rotary at the Providence Bruins" event scheduled for November 2nd. More on this as it gets closer.
It was Ellen's XX Birthday and WE SANG - First time in quite a while, (and easy to understand why)!
Happy $$$s collected by Dan today.
One More Thing
HISTORICAL - While visiting with a friend over coffee one morning, a young woman complained, "Every time my husband and I get into an argument, he gets historical!" The friend interrupted, "Don't you mean hysterical?" "No, I mean historical," the lady replied. "He always brings up the past."
Orren Robbins
GAM Editor