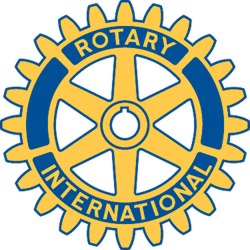 Rotary Club of New Bedford, MA - Weekly GAM
GAM...A nautical term describing the exchange of news between vessels departing from and returning to their ports...
2012 September 7

This Week
While others were battling heavy rains, a hearty band of seafaring Rotarians slogged to the Wamsutta where attendance guru Paula took over the opening ritual and promptly turned the program over to active Alan who kept things under control for the balance of the meeting.
Alan, as chair of the membership and fellowship committees, put in a strong plea for support of next week's Guest Day meeting, urging all to bring a guest, but most importantly ton attend themselves so that visiting guests will see that we are indeed a vital community, district and world-wide service club.
We probably will need a head-count to ensure enough food - so please let Alan know by Monday if you are able to bring a guest. Remember too, guests are all to be paid for by the Club, so bring as many as you wish without increasing your financial commitment.
OUR SPEAKER, introduced by Alan, was Past Pres. David Biggs who gave us a look at his newest role as Program Manager for Southeastern Mass of "Streetwise 'MBA'- of INTERISE, a company out of Boston dedicated to helping small businesses become more successful and to grow.
This is a 7 month program of weekly meetings with professional mentors aimed at teaching business owners to take the time to work ON their business instead of only working at it. They have an office here at 1213 Purchase Street and for more info you can contact David at dbiggs@interise.org or 508-951-8284.
Coming Attractions
Lots of Rotary involvement coming soon. September 19th will be Dist 7950 Community Volunteer Recognition Night at Lombardo's in Randolph, MA. Our volunteer to be recognized is Lynn Donohue of Brick by Brick. Club will pick up the $45 tab. Call Alan if interested.
October 6th, Saturday, will be Dist 7950 Rotary Success Day Seminar from 8:00AM 'til 1:00Pm at White's of Westport. This will be a breakfast and lunch event with four sessions of informative Rotary involvement opportunities. More on this can be found at www.rotary7950.com . Our Club will pay the $28.00 fee for you.
Next Week
Guest Day at our regular noon meeting. Please plan to come and bring a guest and/or prospective member. This will be a very important opportunity to share the value of being a Rotarian with non-members, and you know that Alan will not disappoint you at a function like this.
Odds & Ends
Nancy and Kathy still waiting for volunteers to accept responsibility for providing guest speakers for one month. Cheryl has stepped up taking one - five other months still open. Great opportunity to serve your Club and get exposure from a few of your business associates, too.
April 25th ?????????????? food, wine, beer, music,etc. at the Seaport Inn. Our board has approved a contest for a new name for this new and important fund-raising event. Winner gets two free tickets for him'her self. Mark suggested "Rotary. Y Naught" and asked me to metion that in the GAM so you will know that if it wins he is the winner. (fat chance!) Also, approved - any Rotarian selling ten tickets gets two free, too!
Good to see George back with us after missing quite a few times!!!
September birthdays galore! - Lisa, 9/2 - Cheryl, 9/6 - Ron K and Kristen, 9/12 - Carole, 9/17 - Ellen, 9/19 - Mark, 9/22. HAPPY BIRTHDAY TO ALL!
Eighteen August 100-%ers: Cheryl, Robin, Kathy, Lisa, Alan, Paula, Ellen, Carole, Ron K., Michelle, Stu, Rich, Tom, Orren, Marc, Linda, Mark, Nancy!
And Finally
Thought for the day - "If at first you don't succeed, destroy all the evidence that you have tried."
Orren Robbins
GAM Editor