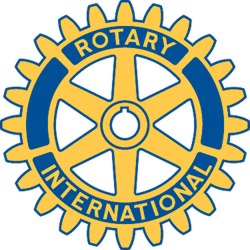 Rotary Club of New Bedford, MA - Weekly GAM
GAM...A nautical term describing the exchange of news between vessels departing from and returning to their ports...
2012 - August 23

This Week
While the heat of summer has been taking its toll on attendance, happy to report that this week saw three tables filled to hear our newest member, Cheryl Barrett, give her classification talk. Cheryl and her husband Charlie own FSI - Fire Systems, Inc., a Reed Road company that specializes in Notifier Fire Alarms Systems. They service all of Massachusetts south of Boston, and the entire state of Rhode Island. Cheryl's corporate role is a large one, giving her responsibility for Marketing, Human Relations and Finance.
On a personal level, Cheryl has a remarkable background having been actively involved in the YWCA, Salvation Army, Chamber of Commerce and other community service organizations, as well as having a brief stint as a High School teacher in Taunton, banking, and of course an active family life. In her limited spare time she is into Yoga, and has a Karate Brown Belt, to boot!
Needless to say, she is a very welcome new Rotarian for New Bedford,and a welcome business person for Dartmouth. We are delighted that she has joined us.
VISITORS AND GUESTS - David Biggs introduced his guest Laura Scarlett-Tavares, Membership Manager at INTERISE - Boston business assistance company that David represents in our area.
Coming Attractions
Alan put in another reminder for our scheduled "Guest Meeting" on Wednesday, September 12th, asking everyone to bring a prospective member, spouse, significant other, or friend for an opportunity to learn more about Rotary. Don't forget - your guest gets lunch for FREE!
Next Week
Just one more reminder - Wednesday, August 29th, we will be meeting at the Waterfront Grille. By the way - Pres. Kathy is still looking for members to get speakers to fill empty September 5th and 19th guest speaker roles.
Odds & Ends
BOARD MEETING will be held on Tuesday, September 4th at BCL. Please don't let the Labor Day holiday confuse you.
Tara put in a plug for YMCA Lobster Races at the annual Chowder Festival at Custom House Square on October 7th. HAPPY $$s raised an unprecedented $100. which will be used by the Rotary Club to "buy a lobster sponsorship" for that event.
In case you missed it!!! Congrats to Rich Medicke who has been named HOMETOWN HERO by WSAR and Bank5 for his work with the YMCA Share the Harvest in conjunction with the United Way Hunger Commission and other food banks.
While the fund-raiser is a few months off, Alan has announced a contest to find a new name for the improved, enlarged, enlightened Seaport Inn Wine event.....something like "WINO?, WHY-NO!" - You get the idea.
And Finally
In the words of David Lloyd George - "Don't be afraid to take a big step if one is indicated. You can't cross a chasm in two short jumps!"
Orren Robbins
GAM Editor