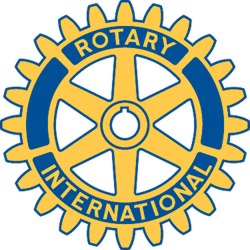 Rotary Club of New Bedford, MA - Weekly GAM
GAM...A nautical term describing the exchange of news between vessels departing from and returning to their ports...
2012 - AUGUST 16

This Week
Pres. Kathy back on board with a very interesting meeting featuring Battleship Cove Executive Director Brad Kikngwith a colorful look at his transition from 36 years as leader of England's Imperial England War Museum, to his move to the USA and Battleship Cove in 2010. Sems that although we tend to see America and England as almost the same, they are quite different in many ways.
His humorous approach took us back to the American Revolution and WWI relationships when he suggested that England should be proud that he took over the original 13 Colony's lare naval fleet "without firing a shot". He was filled with praise for many Southeastern Massachusetts (notice that I never use the word Southcoast) tourist attractions such as the Whaling Museum and the need for united promotional efforts to attract more visitors to the area. He also noted, quite honestly, that the "summer vacation only" attraction of this area is a significant difference from the almost year round visitor interest of England.
All in all a unique experience in many ways and a brief but comical look at how the English language and the American language seem to differ. By the way - there is a "Swing Dance" fund-raiser at the Battleship Massachusetts on Saturday the 18th. For more info go to www.battleshipcove.org or call 508-678-1100
Next Week
Don't know yet, however we do know that our meeting on Wednesday, August 28th, will be at the Waterfront Grille - make a note on your calendar.
Odds & Ends
Pres. Kathy expressed thanks to Rich for handling last week's scholarship program in her absence.
Alan announced a "GUEST DAY" meeting scheduled for Wednesday, September 12th. Members are encouraged to bring a membership prospect, guest, spouse or significant other.. Guests will all be admitted free. More to come on this later.
Alan also confirmed that the 2013 WINE EVENT will be held on Thursday, April 25, 2013, at the Fairhaven Seaport Inn. Many other changes from past events including lots of food and more that just wine to be tasted. Our goal? Three hundred guests! Wow! What a bash that will be!
New Community Service Chair ROBIN CABRAL reported that prospective service projects in the works include helping with the YMCA's Share the Harvest in September, and a possible morning service project in support of Mercy Meals and More. More to come on both, of course, and Robin says "volounteers are always needed".
HAPPY $$$s this week were carefully and cheerfully collected by Dan.
And Finally
Most people can be motivated for two or three months. A few people can be motivated for two or three years. But a winner can stay motivated for thirty years - or as long as it takes to win. (Anon)
Orren Robbins
GAM Editor