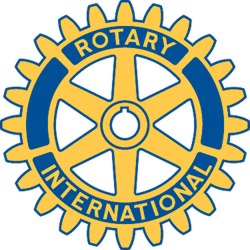 Rotary Club of New Bedford, MA - Weekly GAM
GAM...A nautical term describing the exchange of news between vessels departing from and returning to their ports...
2012 August 10th

This Week
Our annual Scholarship presentation luncheon found us with a nearly full house that would have made Pres. Kathy very happy. Unfortunately she was unable to attend due to sickness that had also kept her from being at the Tuesday afternoon board meeting at BCL. Vice-Pres. Nancy took over the opening leadership role this day, and quickly turned the program over to Rich who introduced our student guests.
Also, unfortunately, only two of the seven scholarship winners were able to attend - Jessica Young, who was presented with her gift by Carole; and Melissa Hebert, whose award was presented by scholarship committee member Bill R. Both recipients read their application letters to all present.
Other winners Vanessa Alves, Justin Howard-Callender, Kaylyn Vieira, Kellyman Dias, and Skylyr Bento had their application letters read by Linda, Bill R., and Rich.
The program wrap up was a brief message from visiting AG/DG Nominee, East Providence/Seekonk Rotarian Valerie Perry, who did a great job complimenting the Scholarship recipients and putting in a good plug for Rotary while quietly suggesting that these young folks look into Rotaract at school and to Rotary itself afterwards.
VISITORS AND GUESTS - In addition to Valerie - Jessica and Melissa and their guests, photographer Charlie Barrett, Mia Morgan and Mike Maloney.
Coming Attractions
Tuesday evening, the 14th, is Rotary Night at Pawsox. Members are encouraged to attend if possible to represent RCNB at this annual District 7950 event. Details on why, where and when can be found on the District web site. Anyone going should bring a RCNB banner along!
Next Week
Wednesday, the 15th - Brad King, Executive Director of Fall River's Battleship Cove will be a program you shouldn't miss! Coincidently (perhaps or because of) August 15th will be the 67th Anniversary of the surrender of Japan ending WWII. I'll be wearing my USN shirt - how about you?
Odds & Ends
Couple of July attendees correction made by Nancy - Lisa joins the 100%ers- George is on the board with thirty three and a third to his credit - both thanks to make-ups.
HAPPY $$s this week scooped up very quickly by OBR at the end of today's meeting hit a (perhaps) all-time high of $88.50 to start rebuilding our Scholarship fund.
The closing Four-Way-Test was led by Michael!
And Finally
In the words of Eric Hoffer - "It is a paradox that in our time of drastic rapid change, when the future is in our midst devouring our present before our eyes, we have never been less certain about what is ahead of us!"
Orren Robbins
GAM Editor