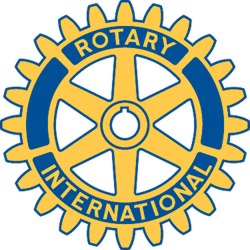 Rotary Club of New Bedford, MA - Weekly GAM
GAM...A nautical term describing the exchange of news between vessels departing from and returning to their ports...
2012 - August 2nd

This Week
Quite a good turn-out considering all of the folks that built up 'make-ups' with the '50's Night parade group, and the well atttended Waterfront Grille meeting on the 26th - both last week.
Our meeting was a Club Assembly headed up by Pres. Kathy and Alan, with a review of our fund-raising projects - centering on the Wine Tasting event which is our most significant source of charitable, disbursable revenue each year. Conclusions were that the event should be moved back into April, and must be moved to a different site where all activity can be held in one large room. Other discussions dealt with ensuring ample numbers of pouring stations - a problem that has surfaced since the loss of Cardoza's involvement; and the need to provide a better organized and more ample food selection. Bottom line - Wine Tasting is important and needs change if it is to continue to be a major part of our income system.
Breakfast with Santa was also confirmed as continuing - probably being moved ahead - a bit closer to Christmas - what with Thanksgiving being so early this year. It was confirmed to be at the YMCA again this year, and Marc has again accepted responsibility for heading up placemat advertising sales.
Both events are important and need a lot of volunteers if they are to be successful, so we all need to plan to help when asked.
VISITORS AND GUESTS - Mike Mahoney came along with mother Pam today.
Next Week
Wednesday, August 8th, is our annual Scholarship Luncheon. This is a sit-down meal so a head-count is important. Please plan to come to this great event, and confirm with Paula so that the Wamsutta can be at its best.
.... And, coming up on Weds. the 15th - Our guest will be Brad King, executive director of Fall River's Battleship Cove, with a very interesting look at that important Southeastern Massachusetts attraction.
Odds & Ends
Lots of 100%ers in July - Toni, Cheryl, David, Kathy, Lisa, Alan, Paula F., Ellen, Carole, Michelle, Stu, Rich, Bill R., Tom, Orren, Marc, Linda, Mark and Nancy. Count 'em... Nineteen in all.
AUGUST BIRTHDAYS - Pres. Kathy on the 6th; and Stu on the 24th!!!
And Finally
Little things - It's the little things we do or say, that make or break the beauty of the average passing day. Hearts, like doors, will open with ease - to very, very little keys. And don't forget that two of these are "I thank you", and "If you please>"
Orren Robbins
GAM Editor