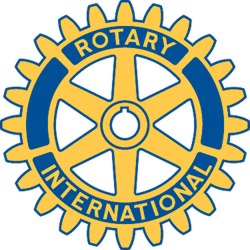 Rotary Club of New Bedford, MA - Weekly GAM
GAM...A nautical term describing the exchange of news between vessels departing from and returning to their ports...
2012 - JULY 26th

This Week
Our guest speaker, intorduced by Pres. Kathy, was Matt Morrissey, Executive Director of the New Bedford Economic Development Council. In an interesting approach to his discussion he began by offering four different possible subjects for our members to choose from. His topics were: Acushnet Avenue and the proposed International Marketplace theme that is being constructed there; Route 18 rebuild for downtown sector; the South end offshore wind service terminal; and the Downtown New Bedford market which ended up becoming his primary subject.
Things are looking quite good for downtown with building occupancy substantially above what it was just a few years ago thanks to new and expanded businesses, art and culture, UMass and BCC, and much nhew housing growth bringing downtown residents up by hundreds, just to name a few 'good news' items.
He also enthusiastically pointed to the recently confirmed construction, soon to begin, of a huge terminal in the South end to service offshore wind projects, that will bring many jobs and much new activity and income to our City.
Coming Attractions
Don't forget Rotary District 7950 'Night at the Pawsox' on Tuesday, August 14th. Pres. Kathy will be looking for someone to volunteer to lead this event for us.
Next Week
Wow! August already.... summer's half gone! On tap will be a report on the July 26th Waterfront Grille meeting to discuss fund-raising that is sure to be very interesting, and we'll have another surprise guest speaker, too.
Odds & Ends
Very important - SCHOLARSHIP LUNCHEON on Wednesday, August 8th. This will be a sit-down luncheon so a head-count is needed. Please let Pres. Kathy or Paula know your plans for that day.
Still looking for someone interested in getting more involved in Rotary by taking over the weekly GAM. How about you?????
....and on a personal note - another sincere "thank you" to RCNB members for your kind recognition of my 80th birthday last week. Your cards, gift and e-mail messages were very nice, indeed.
And Finally
In the words of Henry Ford: ":You can do anything if you have enthusisam. Enthusiasm is the yeast that makes your hopes rise to the stars. Enthusiasm is the spark in your eye, the swing in your gait, the grip of your hand, the irresistible surge of your will and your energy to execute your ideas. Enthusiasts are fighters, they have fortitude, they have staying qualities. Enthusiasm is at the bottom of all progress! With there is accomplishment. Without it there is only alibis."
Orren Robbins
GAM Editor