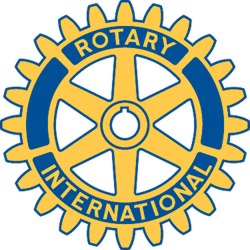 Rotary Club of New Bedford, MA - Weekly GAM
GAM...A nautical term describing the exchange of news between vessels departing from and returning to their ports...
2012 JULY 19TH

This Week
A very busy Wednesday meeting with special guests District Governor Joe Clancy and AssistantDG/DG Nominee Valerie Perry making their official annual Club visit; Miss MassachusettsTeen Amy DaSilva putting in a plug for CMTA; and a surprise birthday celebration for yours truly popping up just when I thought I had slipped by without a mention.
District Governor Clancy's visit began at 10:30AM with a meeting with Pres. Kathy, board members and oficers, for a review of our Club status and our plans for Rotary year 2012-2013. He was our main speaker after lunch, with his message of District support for his 66 Clubs, and many compliments for RCNB leadership and membership contributions to our city, our district, our country and the Rotary World. His basic message - "Enjoy Rotary", be proud to be a member, help make a difference in the world, do good things for others, and remember RI President Sakuji Tanaka's theme "Peace Through Service".
Amy DaSilva, Miss Massachusetts Teen, introduced by BCSB's Valerie Lacasse, brought to light a rather unknown health problem, Charot-Marie-Tooth, a progressive neuromuscular disorder of which she suffers, and a new program recently launched to combat that disease. For more info on this CMTA research and drug discovery effort look them up at www.cmtausa.org/STAR. I'm sure that Valerie could get you a copy of a very informative CMTA brochure, if you're interested.
And,.....A huge thank you to Rotary members for a thoughtful card, gift, and tasty cake - celebrating my 80th birthday tomorrow (Friday), July 20th.
Coming Attractions
Lot's going on soon. 50's Night downtown New Bedford this (Thursday) evening with a parade that Rotary will be joining as part of the celebration. Meet with members in front of the Library around 6:30PM and plan to step off at 7:00PM. Join Alan and Joy, Willy and Dolly and others, and bring a friend or family member to join in the fun.
Meeting at the Waterfront Grille - 5:00PM on July 26th to discuss fund raising efforts and more with Pres. Kathy.
Rotary Night at Pawsox coming up on August 14th. This will be the 25th Dist 7950 Pawsox event and always promises an evening of fun!
Next Week
Program not announced yet, but hope you will join us for another meaningful Rotary adventure.
Odds & Ends
District 7950 sponsoring a Group Study Exchange visit to France. This four week trip scheduled for March-April 2013 is a great opportunity for non-Rotary members, young professionals (age 25-40), and also an opportunity for Rotarian Team Leader, too. OBR has details.
And... still looking for a GAM editor replacement. Interested?????
And Finally
We need each other! Two cows grazing in a pasture saw a milk truck pass. On the side of the truck were the words, "Pasturized, homogenized, standardized, Vitamin A added". One cow sighed and said to the other, "Makes you feel sort of inadequate, doesn't it?" We too are inadequate without quality, cooperative relationships. People are the supplements that make our lives better.
Orren Robbins
GAM Editor