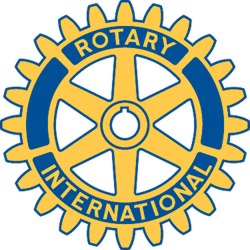 Rotary Club of New Bedford, MA - Weekly GAM
GAM...A nautical term describing the exchange of news between vessels departing from and returning to their ports...
2012 - JULY 13

This Week
Summer seems to be taking it's toll on attendance these hot, hot days but our programs continue to be wonderfully informative and important. Our speaker this week was Reverend Russ Chamberlain, the moving force behind downtown New Bedford's "Mercy Meals and More", a program that fills the gap in food availability for those in need by it's six day a week restaurant style service.
In place for two years now, Mercy Meals and More provides over 30,000 meals a year from an all volunteer staff and contribution based food and financial system. It is also a resource for clothing and books for anyone in need.
Mercy Meals and More is open at 634 Purchase Street, Monday thru Saturday, from 6:45-7:45AM. For more information, volunteer assistance or financial donation, all Reverend Russ at 508-728-1489, or go on the internet to www.mercymeals.org . Today's $32.00 of Happy $$'s, collected by Dr. Bill, was donated immediately to Rev. Russ.
VISITORS AND GUESTS - Kristen's daughter Mia was with mom today. Alan was joined by his friend Alex Nasrawi, owner of A&A Jewelers.
Coming Attractions
Joe Jesus' Fifties Nite Downtown is just around the corner - Thursday evening, July 19th. Fellowship chair Alan and his wife Joy will be downtown dressed as Willy Nelson and Dolly Parton - offering photo opportunities (at a small donation to RCNB). This year a Fifties Nite parade is in the making for the first time. RCNB is hopeful of getting at least twenty members and guests to join Alan and others as part of this new venture to give recognition to Rotary! C'mon down about 6:00PM to join in the fun!
FUND-RAISING discussion for all interested is planned for July 26th at the Waterfront Grille. More on this next week.
Next Week
July 18th - a very important meeting - the annual visit of our new District Governor, Joseph P. "Joe" Clancy. Board members are asked to meet with DG Joe at 10:30AM - Let's have a big noon-time turn-out to welcome our District Governor and show him how great the Rotary Club of New Bedford is!!!
Odds & Ends
HELP, HELP, HELP - After five years of doing the weekly GAM I would like to be able to turn it over to another member - old or new - and give someone else the opportunity to use their wit and wisdom, and get more deeply involved in Rotary by making this significant contribution to our Club. It's not that hard, but is very important. Time required? Depending upon your computer skill (which I admittedly severely lack) one hour a week or less. Thanks.
JULY BIRTHDAYS - there is only one active member this month and that member wishes to remain anonymous.
And Finally
Of hens and catfish - "The catfish lays ten thousand eggs, the lonely hen lays one. The hen will proudly cackle, to tell us what she's done. We scorn the humble catfish, while the lowly hen we prize; Which only goes to show you - it pays to advertise!"
Orren Robbins
GAM Editor