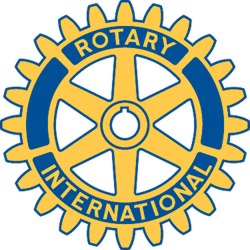 Rotary Club of New Bedford, MA - Weekly GAM
GAM...A nautical term describing the exchange of news between vessels departing from and returning to their ports...
2012 JUNE 28
This Week
Long before I sat down to write this week's GAM, I realized that I had not taken any notes at Wednesday evening's 2012-2013 officer installation meeting - for a number of reasons including having a captivating personal guest - but will do my best to summarize for those of you who missed a wild and wonderful, serious and sincere, important and impressive event.
Hat's off again to Alan Freitas for arranging (along with Pres. Kathy) a program including music by Matty B, delightful dining, lots of fellowship and lots of laughs including his dual role as a Few Good Men! Boy, the truth took a beating, for sure.
Inductions by your's truly (OBR) brought the following 2012-2013 leadership team: Board members Carole, Bill R., Dr. Bill, Rich, Toni, Alan, George, Linda and OBR. Secretary, Michelle Lapalme Oliver for another year. Treasurer, Paula Freitas. Vice-President Nancy Wood Dupont. President for a second year, Kathy Castro. All took the oath of office acceptance.
Former member and past president, Robin Cabral, was warmly welcomed back to RCNB, becoming our newest memberm in a an induction that added a nice touch to this wonderful event.
Pres. Kathy presented Paul Harris Fellowship awards to Jim Oliveira and to Julie Larivire with thanks for their significant support. Rich Medicke presented Paul Harris Fellowships to Pres. Kathy and to OBR for the same reason.
Stu Lawrence was given a gift of a Rotary jacket by Pres. Kathy in recognition of his very important role in our fund-raising wine tasting events for the past 18 years.
Happy $$$s collected by Ellen Gitlin, set an all-time record of $201.00 to be added to our scholarship fund.
Cheryl Barrett spent much of her evening flitting around the room with her camera, recording this event for posterity. Thanks, Cheryl - a very active new member.
VISITORS AND GUESTS - Lots of husbands, wives, special friends and associates added a nice touch to a very successful evening. Included in that group were Assistant Governor and Governor to be, Valerie Perry; and our dear friend Elaine Lima, aunt of Matty B., just to mention two.
All in all - a very, very fine evening as a welcome to Kathy who has cheerfully and importantly assumed the role as Club President for a second year; for other Club members accepting leadership commitments, for members recognized for substantial contributions to the Club and Rotary International, new member Robin, and for many members and friends who joined us at the Country Club of New Bedford on June 27, 2012.
See you back at the Wamsutta at noon on Wednesday, July 4th.
Orren Robbins
GAM Editor