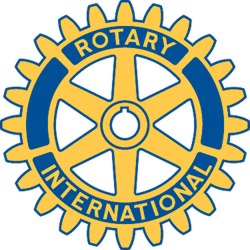 Rotary Club of New Bedford, MA - Weekly GAM
GAM...A nautical term describing the exchange of news between vessels departing from and returning to their ports...
2012 JUNE 21

This Week
Interesting, to say the very least - with Mark Treadup the program chair and the program itself. As you know, Mark is a pretty soft spoken individual and with your's truly being a bit on the deaf side, I must confess that my summary of his remarks will probably be a bit skewed. Let's see.... his first course of action was to fully accept the responsibility for failing to order the Pizza for last week's M.O.Life M$$$M making it the most profitable M$M in the history of our Club. He did, however, note that "no one told him that he should do so", so it really isn't his fault.
Then, after a brief lecture on good health and a subtle stretching exercise, he reminded us of his last program (which ended up with us all going for a walk around the neighborhood), but due to the extremely high temperature, rather than going out, we marched around the tables right there inside the Wamsutta. Needless to say, today was another Mark Treadup program that will long be in our memories.
VISITORS AND GUESTS - Nice to have Robin Cabral back with us again.
Coming Attractions
Probably the (at least next to) last reminder of next week's installation of officers and directors on Wednesday, June 27th, starting at 5:30PM at the Country Club of New Bedford. Social begins at 5:30PM with dinner and installations starting a bit after 6:00PM. Alan will be heading up the event so you know that it will be great!! Two new members also scheduled to be inducted that evening. If you've not yet RSVP'd please do so ASAP as an accurate head-count is important.
Odds & Ends
Pres. Kathy announced that a fund-raising planning meeting will be held on July 12th. Time and place to be confirmed soon. This will be an opportunity for all members to have input on this especially important Club activity.
Dr. Bill made a brief plea to members to check into the poll being taken by The Standard-Times on peoples stance regarding Zoo expansion. Your opinion would be appreciated. I don't have the details, but if you'd like to help Give Dr. Bill a call.
Kristen told us that her daughter will be one of ten members of a swim team that will be entering the "Swim Buzzards Bay" 1.2 mile fund raiser for the Buzzards Bay Coalition. Look them up on the internet for details.
Today's Happy $$$s were collected by none other than OBR who collected $38.00 for our scholarship fund, and set a new record for yelling at members who were not paying attention to what people were happy about! Probbly, Pres. Kathy will not be asking me to do that again.
And Finally
In the words of Abe Tennenbaum: "The creative person is willing to live with ambiguity. He or she doesn't need problems solved immediately and can afford to wait for the right idea to come along."
Orren Robbins
GAM Editor