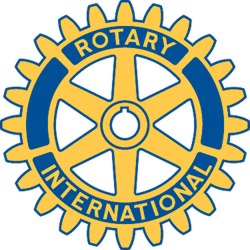 Rotary Club of New Bedford, MA - Weekly GAM
GAM...A nautical term describing the exchange of news between vessels departing from and returning to their ports...
2012 June 15
This Week
Not sure, but think that the crew who showed up at M.O.Life on Wednesday afternoon may have set some sort of a record for this annual community service event. At the risk of missing someone, I'll take a stab at listing them: Pres. Kathy, Mark, Marc, George, David, Bill R., Alan, Michelle, Kristen, Rich, Stuart, Dan,Cheryl, Paula F., Nancy, and your humble GAM editor. We also had two guests; Alan's wife Joy who dug right into the foray, and Chery's husband Charlie, who was there with his camera to record our project.
.....BUT !!!!!!! Try as one might we couldn't find the PIZZA LUNCH, so it also set a mark as being the 'lightest' (for lack of a better description) Million $$$ Meal in RCNB history. Good thing that most of the hundreds of pounds of foodstuffs we were handling were in tin cans,and nobody had a can opener. It should be noted that no one in attendance stepped up to take the credit for failing to order lunch, so it probably can just casually be blamed on one of the members who was not there.
....And, oh yes - Nancy (nice) wishes all to remember that as Wednesday was a M$M each one of us now owes her $14.00.
Coming Attractions
Plans are firmed up and we're booked into the Country Club of New Bedford for the June 27th installation of officers and directors for Rotary year 2012-2013. Pres. Kathy will be launched into her second presidential year and her team will be officially inducted, too.
By now you have seen Pres. Kathy's very classical e-guest invitation. Please RSVP to her soon so that she will have the proper numbers to order food and beverages.
Next Week
I can only say that we will be meeting at the Wamsutta, and will have another mystery guest (since no one has told me otherwise)
Odds & Ends
Two new members have been proposed by Alan, and approved for membership by the Board of Directors. We will welcome (back) former RCNB President Robin Cabral; and are delighted to learn that District Attorney Sam Sutter has agreed to join our ranks, too.
FYI, I am happy to note that District 7950 has approved and filed an application to Rotary Internationsl for another World Peace Scholar candidate. Sarah Frances Noble was nominated by the Rotary Club of Cohasset, and was approved by Dist. 7950 WPS committee after a Skype conference with her (she is in Kenya) on Monday, June 11th.
And Finally
In the words of Ethyl Barrymore: "You must learn day by day, yhear by year, to broaden your horizons. The more things you love, the more you are interested in, the more you enjoy, the more you are indignant about - the more you have left when anything happens."
Orren Robbins
GAM Editor