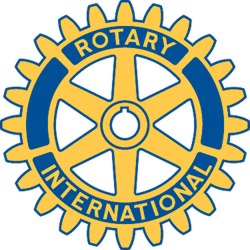 Rotary Club of New Bedford, MA - Weekly GAM
GAM...A nautical term describing the exchange of news between vessels departing from and returning to their ports...
2012 - June 7th

This Week
A huge round of applause and thanks goes out to Alan Freitas for organizing and leading Wednesday evening's Social/Fellowship/Membership gathering at the Wamsutta Club. The event was a wonderful, well attended, well presented Rotary Club meeting - showing visitors and guests the world-wide power of Rotary International and the wide range of community service and fellowship that the Rotary Club of New Bedford provides for our community.
Since no formal sign-in was done, I do not have a specific list of visitors and guests, but suffice it to say that this event was attended by several spouses, male and female, and several friends of members, too.
Special guests, District Attorney Sam Sutter and his aide Yasmina (and I believe his wife, too) were a big hit. And,it was great to see our friend Elaine Lima, the retiree; and Carl's wife, both former members.
Next Week
Wednesday, June 13th, will be our annual 'work party' at MOLife food pantry,725 Pleasant Street in Downtown, NB. This community service meeting is a fun way to help out the food pantry by sorting donated foodstuffs and stocking pantry shelves. Lunch by the way is always PIZZA!!!!
Odds & Ends
First up.... Dues are Due! Treasurer Nancy, in her usual gentle way, thanks you in advance for getting those checks to her promptly.
BOARD MEETING - at Better Community Living - 4:30PM on Tuesday, June 12th.
ALLOCATIONS COMMITTEE telephone conference Monday, June 11th, 8:30AM - Linda will be reminding us.
100%ers for the month of May: Cheryl, Kathy, Lisa, Alan, Ellen, Ron K., Michelle, Stu, Rich, Kristen, Tom, Orren, Marc, Linda, Mark and Nancy.
JUNE BIRTHDAYS- Roy, June 14th; Julie, June 20th; Toni, June 28th.
And Finally
Zig Ziglar tells us: "An optimist is someone who goes after Moby Dick in a rowboat and takes the tartar sauce with him."
Orren Robbins
GAM Editor