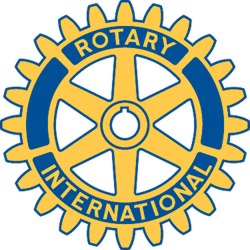 Rotary Club of New Bedford, MA - Weekly GAM
GAM...A nautical term describing the exchange of news between vessels departing from and returning to their ports...
2012 - May 24th
This Week
An exceptionally interesting program arragned by, and introduced by Linda, brought Bristol County District Attorney Sam Sutter to our nearly full house Rotary meeting on Wednesday.
Opening his talk with praise to Alan for his wonderful and poetic speech at the memorable celebration of Elaine Lima's retirement; and a very knowledgeable summary of Rotary Club community and world service ideals, DA Sutter then proceeded to tell a very enlightening tale of the volunteer community service efforts provided by his staff and associates to firmly establish their important contribution to many Bristol County organizations by thousands of hours of service each year.
DA Sutter also reminded us that he is running for Congress in anticipation of replacing the retiring Congressman Barney Frank in this fall's election, citing his public service experience and personal commitment to thoughtfully and thoroughly represent the people of the Southeastern Massachusetts area.
VISITORS AND GUESTS - In addition to DA Sutter we were delighted to welcome his aide Yasmina Serdakevic. Alan had two guests - wife Joy and former RCNB member and president Robin Cabral. Cheryl was accompanied by her husband Charlie Barrett. Nice to see David Biggs again, too.
Next Week
A bit of a change in plans - Pres. Kathy will dedicate the May 30th meeting to a Wine in the Wild report, review and evaluation session. Your thoughts and ideas regarding this important fund-raiser are wanted and welcome.
Odds & Ends
Alan is firming up plans for the June 6th 5:00 to 7:00PM Social/Fellowship/Membership event. Looks like as many as fifty members, guests and prospective members will be present. Confirm your spot with Alan if you have not done so already, because a head count is needed to ensure enough yummy hors d'oeuvres. By the way - very good chance that DA Sam will be with us again that evening.
OUR SYMPATHY goes out to Paula B. and her family on the recent loss of her mother.
UNITED WAY CLAM BAKE WITH LOBSTER - Winners of two tickets each for this June 18th event were: Ron K., Julie, Tom, David and Mark.
And Finally
According to Bob Orben (whomever he may be): "Adam and Eve had an ideal marriage. He didn't have to hear about all the men she could have married - and she didn't have to hear about the way his mother cooked!"
Orren Robbins
GAM Editor