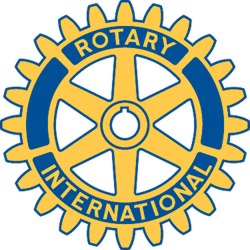 Rotary Club of New Bedford, MA - Weekly GAM
GAM...A nautical term describing the exchange of news between vessels departing from and returning to their ports...
2012 May 17
This Week
Program chair Tom gave an enlightening, energetic and effusive introduction to East Greenwich Rotarian and Past Assistant Governor Bill Palmisciano, who is the District 7950 Vocational Service Chairperson. Vocational Service is one of the many "service" areas of Rotary.
Bill's message was a summary of Rotary standards and classification significance that reinforce ethical importance, fairness and respect in every aspect of Rotary membership and activity, through the "Objects of Rotary" and the "Four-Way Test". He stressed the Vocational Service philosophy of encouraging Rotarians to serve others through their vocations andconstant practice of high ethical standards. He also reminded us of the value of "Classification" talks, and suggested that as new members join the club, 'older' members should be called upon from time to time to give "Re-Classification" talks, too.
In other business, Pres. Kathy says that Wine in the Wild has wrapped up and a full financial report will be coming in your email very shortly.
Thanks to Mark for filling in for AWOL treasurer and attendance guru Nancy, and to today's Happy $$$s collector Alan.
VISITORS AND GUESTS - Well, hard to believe since we had a visitor last week from Montana,.... but, believe it or not.... this week we had visitors from Minnesota!! In addition to speaker Bill Palmisciano we were joined by Dr. Leonard Roche, well-known New Bedford educator who was Bill's guest; and Edina, Minnesota Rotarian Bill Clynes and his son David Clynes, who are here in NB doing some historic family research workl.
Next Week
We will be joined by Dartmouth Rotary past president and long-time friend and associate Dorothy Cox. Sure hope she will be bringing some samples of her work!!!!!
Odds & Ends
I forgot May Birthdays last week so please join me in humming Happy Birthday to Tara, May 6th - Nancy, May 18th - and Paula F., May 27th. Hummmmmm.
Pres. Kathy reminds us that she is organizing a meeting to review Wine in the Wild at her house on June 1st. Anyone who would like to take part should let her know in advance - she would welcome your input.
Alan re-capepd his planned Social/Fellowship/Membership event scheduled for June 6th. Spouses, guests and prospective members are encouraged to be invited. Hors d'oeuvres and beverages will be served.
And Finally
In the words of Benjamin Disraeli .... "Action may not always bring happiness, but there is no happiness without action."
Orren Robbins
GAM Editor