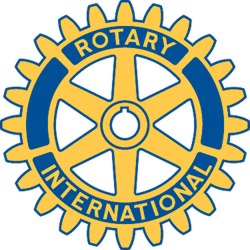 Rotary Club of New Bedford, MA - Weekly GAM
GAM...A nautical term describing the exchange of news between vessels departing from and returning to their ports...
2012 May 10
THIS WEEK
Pres Kathy kicked off the meeting with a brief report on Wine in the Wild, noting that it was "a big success" and thanking all who contributed prizes, sold tickets and sponsorships, and attended the event held last Friday evening at Buttonwood Park Zoo. A full report on financial results should be prepared by next week's meeting.
May speaker chairman Tom, in his usual elegant and effusive manner, introduced Better Community Living associate Trina Bigham, leader of Bridges to Faith, a BCL program initiated by the New Bedford Area Department of Developmental Services and the Inter-Church Council.
The work of Bridges to Faith focuses on identifying individuals with disabilities who wish to participate in local faith communities, as well as to identify members of congregations who are willing to offer support by serving as Faith Companions, helping (much like Rotary International) to build relationships and change people's lives.
Volunteers are currently needed in both Dartmouth and New Bedford. More info can be had by calling Trina at 508-542-5589, or through the web at bridges_to_faith@bettercommunity.com
VISITORS AND GUESTS - A first to be sure.. . a visit by Bozeman, Montana Rotarian Liz Gibson who is here on "business and pleasure", and who we can expect to see again soon.
Next Week
Our speaker on Weds. the 16th will be Warwick Rotarian Bill Palmisciano who will be updating us on a relatively new District project.
Odds & Ends
Alan gave us a look at the upcoming June 6th evening Social/Fellowship/Membership meeting that he is organizing. Start thinking about bringing a guest and/or potential membership candidate. More to come later.
Pres Kathy is planning her re-induction meeting for the evening of June 27th. Mark your calendar for both of these June events.
My apologies to Stu Lawrence for leaving his name off of the 100%ers list last week
And Finally
Clement Stone reminds us; "There is little differennce in people, but that little difference makes a big difference. The little difference is attitude. The big difference is whether it is positive or negative.
Orren Robbins
GAM Editor