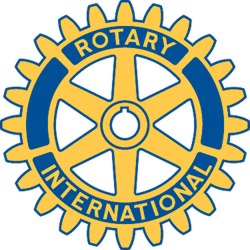 Rotary Club of New Bedford, MA - Weekly GAM
GAM...A nautical term describing the exchange of news between vessels departing from and returning to their ports...
2012 - May 3

This Week
Last call for ticket sales, raffle prizes and all that kind of stuff as we wrapped up plans for Friday's Wine in the wild event at the Buttonwood Park Zoo!
And, another well deserved round of applause for Stu Lawrence who virtually single-handedly has accounted for over one quarter of the tickets sold, and over $2,500.00 worth of sponsorships - an outstanding effort to ensure the financial success of this important annual event.
Highlight of the day was the introduction by Julie of "Winey Coyote" and his Rotary Wine, howling by the light of a beautiful full moon. Each table will have one of these centerpieces that will be sold at the end of the evening. The one presented today was auctioned off by Dan, bringing $20.00 into our treasury.(For the record - purchased by OBR who gave it to Kristen as a gift.)
Pres. kathy needs set-up and take down volunteers - if you can help, please be at the Zoo about 4:30PM and plan to stay until the end. She also urges club members to wear their name badges and Rotary pins, and wear clothing adorned by animals if you have such.
See you there!!!!!
Next Week
Apparently, only the Shadow knows. Hope you will come along to find out and get a final report on success of Wine in the Wild.
Odds & Ends
April had seventeen 100%-ers: Toni, Dan, Kathy, Lisa, Allen, Ellen, Carole, Ron K., Michelle, Rich, Bill R., Orren, Marc, Linda, Mark, Nancy and Cheryl. Congrats to all.
MAY BIRTHDAYS - Tara, 5/6; Nancy, 5/18; and Paula F., 5/27.
Pres Kathy is working on getting more publicity for RCNB by getting a professional photographer to agree to be on hand for all special meetings and events. Got anyone in mind? Let her know.
Mark your calendar - June 6th will be a fellowship/membership event planned by Alan and committee. July 19th 50's Nite downtown New Bedford will be another Alan and Joy performance (Willy and Dolly) for a lot of fun and a bit of $$$ for the treasury.
Attendees at (May 3rd) Tauanton Rotary Club gathering for Skype presentation were: Kathy,Nancy, Linda, Alan, Lisa, Cheryl, Toni, OBR and Alan's wife Joy.
And Finally
Four year old Johnny ran into the house hollering, "Mommy, Mommy, there's a cat out in the yard as big as a lion." "Now calm down," said his mother. "If I've told you once, I've told you a thousand times, don't exaggerate!"
Orren Robbins
GAM Editor