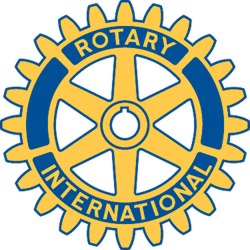 Rotary Club of New Bedford, MA - Weekly GAM
GAM...A nautical term describing the exchange of news between vessels departing from and returning to their ports...
April 12, 2012

This Week
Always one of the most interesting meetings, today's Group Study Exchange team of visitors from India, under the guidence of Pawtucket Rotarian Bill Hunt, was no exception. GSE provides an excellent look at other countries and other people - we get four or five brief looks into a group of world travelers who, through Rotary International, proudly represent their country and do their part in furthering world peace and understanding. The group even sang the India National Ahthem today - a first in the many GSE visits to my memory. Bill Hunt's leadership, and Ellen's hosting, makes their visit to our Club and our city a very interesting da for all concerned. We also welcomed Colin Murray, President of the Pawtucket Rotary Club, and two other guests whose names were lost in the shuffle, sorry to say. India GSE members were: Arvind Sharma, Amit Sharma, Manraj Kaur Grill, and Muskaan Dorga. Team leader was India Rotarian Inderjit Singh Grewal.
NEW ROTARIAN - We also had the pleasure today of inducting our newest member, Cheryl Barrett, owner of Fire Systems Inc., a Dartmouth fire alarm system disgtribution business. Cheryl was proposed by Alan, and inducted by OBR in a brief ceremony. Please be sure to make yoursefl known to Cheryl and welcome her to the RCNB.
Coming Attractions
WINE IN THE WILD - Friday, May 4th, at the Buttonwood Park Zoo is not that far away any longer. With the potential for being hugely profitable thanks to donations from the caterer Russell Morin, Dorothy Cox, Milk and Honey, Douglas Liquors; interesting entertainment by McCarthy and Friends - and YOUR SUPPORT in the sale of tickets, collection of raffle and auction items and donations of lottery scratch tickets and bottles of wine. Whew! Thanks too, to Mark T. and Rich for sponsor support.
Next Week -
???? Who knows, but I bet it will be another great meeting!! Please, please, please bring bottles of wine, lottery scratch tickets and auction items, so that those can be properly prepared for the 4th.
Odds & Ends
Last chance to sing up for District Assembly at CCRI on Saturday morning, April 14th, and District Conference dinner on the 21st. One spot left for that event.
Alan made an interesting discovery in a closet today - A small monkey that was used for Happy $$$s several years ago and still stuffed with $31-dollars, will salt the kettle for our up-coming 50's Night fund raiser with Willy Nelson and Dolly Parton, downtown this summer.
We're back on CLUB WIZARD - Whoopie!!! Thanks to Carl. Bill R., Alan and Ron M.
AND FINALLY - "I WAS" according to Lane Olinghouse - Shortly after the honeymoon, the new bride started to complain about family finances. "When we were courting," she nagged, "you led me to believe you were well off." "Oh, In was," the husband sighed. "I was!"
And Finally
Orren Robbins
GAM Editor