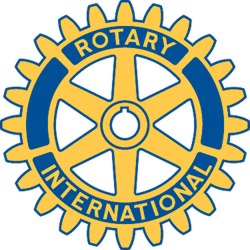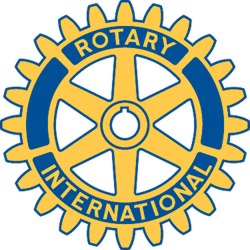 Rotary Club of New Bedford, MA - Weekly GAM
GAM...A nautical term describing the exchange of news between vessels departing from and returning to their ports...
2011
This Week
What a wonderful showing - thirty-two Rotarians and guests for lunch at the Fairhaven '99' Restaurant, participating in their program of support for Better Community Living which will receive a percentage of today's reciepts. A nice birthday present for Tom Riley, who turned XX today in celebration of his birth on March 2nd 19XX. Tom even got a birthday cake adorned with one blazing candle from '99' in addition to the melodious singing of Happy Birthday by his associates.
Since this was mostly a social luncheon gathering, very little Rotary business was involved, however, Pres. David had asked to re-introduce the long-abandoned "Rotary Minute" into our weekly meeting and called upon OBR to return to the role of presenter. His topic of the day was "Honorary Membership" and the message was straight out of the Rotary International Manual of Procedure, explaining how significant and important that recognition is, resulting in a round of applause for our Honorary Member, Julie Lariviere. Just coincidentaly, Julie had brought her mom Jackie, and her friend Joan Lavendier who delighted in being present at this informative event.
In addition to Julie's guests, we were also joined by Paula Freitas' son Brian, and Alan Freitas' wife Joy.
Coming Attractions
District 7950 PETS (President-Elect Training Seminar) isright around the corner, March 10th thru 12th. Pres-Elect Kathy and Pres. David will both be going and will come back with interesting reports, I'm sure.
WINE IN THE WILD committee continues to meet and ensure another remarkable and profitable fund-raiser on May 6th. The tickets have been printed and will be disbursed next week. Time to start selling tickets and sponsorships, and soliciting silent auction items. Nancy notes that Lottery Scratch Tickets are coming in, but more are needed to create a huge raffle prize. Members can purchase tickets, or just give Nancy cash, and she'll do the buying.
Next Week
Back to the Wamsutta - program unknown at this point (at least unknown by me)
Odds & Ends
Twenty-one members had perfect attendance in February: Let's hear it for David, Peter, Dan, Julie, Kathy, Sarah, George, Dr. Bill, Michelle, Stuart, Pam, Rich, Tara, Bill R., Tom, Orren, Marc, Linda S., Carl, Mark and Nancy! That's over half of our membership - see what make-ups will do -good work!
At a very productive board meeting on Tuesday, plans for a special "membership" meeting, the State of the City annual address, and cranking up Every Rotatarian Every Year (EREY) action were agreed to. Also, a commitment made to provide eight scholarships this year, up two from last year's level.
And Finally
Pastor: "So God has sent you two more little brothers, Dolly?" Dolly (brightly): "Yes, and He knows where the money's coming from; I heard Daddy say so."
Orren Robbins
GAM Editor