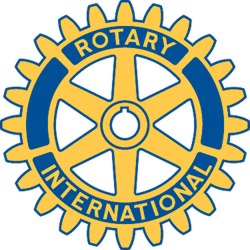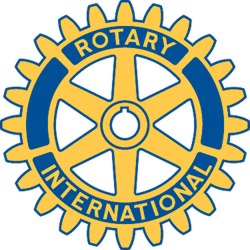 Rotary Club of New Bedford, MA - Weekly GAM
GAM...A nautical term describing the exchange of news between vessels departing from and returning to their ports...
2011
This Week
Well, I hardly know where to start, but let's look at it this way. With forty people in attendance, it was the biggest crowd we've seen in a long time. The Wamsutta folks were put into high gear adding an additional table, and even then then, what was described to me as a "kiddie table", occupied only be Tom and Geneva, had to be brought into play.
What appeared to be a somewhat routine event started with the introduction of eight members of the UMass Rotaract Club, headed up by our own Courtney, who collectively joined Pres. David to be presented with a check in the amount of $500.00 in support of their planned trip to the United Nations later this year.
Also on the business side, club members Dr. Bill and Carl were invited to the front of the room and were presented by Pres. David with a check in the amount of $750.00 - our club donation to the Buttonwood Zoological Society.
And then, what to our wondering eyes (and ears) did appear, but Alan Freitas, singing troubadour, making his return to our club after several months of absence, and entertaining us with a half-dozen or more of his colorful ditties, humorous and poignant musical accounts of his past, present and future. Alan, it is great to see you (and hear you) back! We've missed your peculiar style and heartily welcome your return to Rotary. How you remember all of the words to these home-made melodies, is beyond my comprehension.
Guests abounded today: Honorary Rotarian Elaine Lima came with a guest, Bill Sylvia; three of our well-known visiting children, Arlee Biggs, Mia Morgan and Mike Mahoney were with us; and, I'm embarrassed to say that although attendance guru Nancy gave me a list of the names of the seven visiting Rotaract members, I lost it somewhere along the way. My apologies to all.
Coming Attractions
Just another reminder of the Wine in the Wild event at the Buttonwood Zoo. Tickets should be available soon. The wine-tasting committee is hard at work planning for an outstanding affair on May 6th, but your help is needed, too. Silent auction items obtained should be reported to Michelle, and Nancy is badly in needs of support for the Lottery Ticket raffle. We're asking every Rotarian to give a few dollars worth of scratch tickets, or simply give a few dollars to Nancy and she'll buy the tickets for you!
Next Week
Sure to be a bit quieter at the Wamsutta than this week.
Odds & Ends
Look for an e-mail from Life Stream's Jim O. asking for your support in the form of a plea to State Representatives and Senators to restore proposed funding cuts that would eradicate the current Employment Service Program (ESP). Finding work these days is hard enough, but the loss of this important assistance project would be a disaster!
One more reminder... a few of last week's MILLION $$$ MEAL contributions still outstanding. Help Nancy to wrap up this bit of her bookkeeping. Thanks.
And Finally
Mrs. Clalrk came running hurriedly into her husband's office one morning. "Oh, Dick", she cried, as she gasped for breath. "I dropped my diamond ring off of my finger, and I can't find it anywhere!" "It's alright, Bess," replied Mr. Clark. "I came across it in my trouser pocket!"
Orren Robbins
GAM Editor