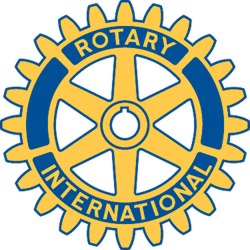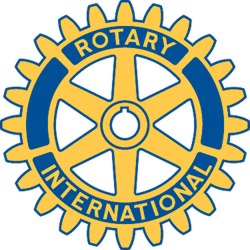 Rotary Club of New Bedford, MA - Weekly GAM
GAM...A nautical term describing the exchange of news between vessels departing from and returning to their ports...
2011
This Week
Pres-Elect Kathy stepped up to the podium in Pres. David's absence, once again adding one more day to her pre-presidential presidential experience (she's good!) Despite the threat of heavy snow, that started withing minutes of our meeting, attendance was one of the best in weeks.
First order of business was a brief report on planning by the committee of Kathy, Linda S., Paula B., Julie, Jen and Stu, for our spring wine festival fund-raiser. With the changes in Cardoza's, changes in our efforts will also be needed. Confirmed at this meeting were the date, Friday, May 6th; location, the Buttonwood Zoo; price to be held at $50.00 level. Kathy is hopeful that each club member will sell at least four tickets, and purchase at least one for themselves, to ensure a minimum of 200 ticket sales.
Featured program was new member George Costello giving his classification talk. George, who lives down on the Cape in Falmouth, was born and raised in Canton, MA, along with his five siblings. He told of his love for baseball, football and track as a young man, and his discovery of his love for fishing at the age of twelve. He is a graduate of Northeastern University, and is deeply involved in environmental protection, dealing heavily in asbestos removal, oil spills and other hazardous waste concerns. His love for fishing has him active in organizations such as the Massachusetts Striped Bass Assoc., Trout Unlimited Southeastern Mass, and the Falmouth Fishermen's Assoc., and he is also involved in an interesting program teaching women how to fish as part of a Nursing Home mental health effort.
Coming Attractions
Pre-PETS seminar at White's of Westport on Saturday, the 29th, from 8:00AM 'til 1:00PM. Interesting make-up opportunity.
BOARD MEETING - Tuesday, February 1st, 4:30PM at Better Community Living office on Ventura Blvd, off Faunce Corner Road, just north of VF Outlet. If you need a make-up, you're welcome to join with the board that afternoon.
Next Week
Regular meeting at the Wamsutta - Wednesday at 12:15 PM. It is rumored that Courtney K. will be giving her classification talk that day.
Odds & Ends
.......and speaking of Courtney, Ta Da! She was proudly showing off a new diamond ring! Hmmmm..... Looks like the first step toward a wedding????
BLUES FOR THE BLUE - Jen Costa announced the second annual Blues fund-raiser for the Ocean Explorium. mark your calendar - March 5th, 7:00PM at Tifereth Israel at the corner of Hawthorne St., and Brownell Ave. More info by calling 508-994-5400.
And Finally
A flea and a fly in a flue, were imprisoned, so what could they do?
Said the fly "Let us flee!", "Let us fly", said the flea,
And they flew through a flaw in the flue.
Orren Robbins
GAM Editor