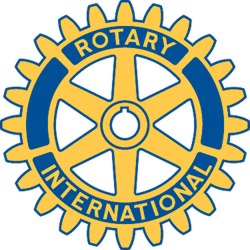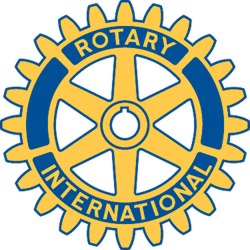 Rotary Club of New Bedford, MA - Weekly GAM
GAM...A nautical term describing the exchange of news between vessels departing from and returning to their ports
2010
This Week
Perhaps a bit unusual, but a very interesting and appropriate meeting - unusual, but entertaining, by the presence of a six person Ghanian drumming group: and appropriate for the season with gift wrapping and Santa for our annual support of the children of Bridge House.
Pres. David opened the meeting by introducing a group of Global Learning Charter School students led by music teacher Nancy Brown. Armed with authentic (bongo type) drums and other tempo-keeping aids, the group entertained us with a series of Ghanian ceremonial drumming and dances. Very uinteresting was the account of Ms. Brown regarding the challenge of getting approval for bringing the drums from Ghana to the United States through customs.
After lunch Rotarians, now under the leadership of Vice President Peter, really got into the Holiday mood wrapping dozens of gifts for Bridge House children. Santa Claus, himself, arrived about 1:30PM to head the small group of gift bearers to the Bridge House to meet with the children there. A very rewarding experience, I am told by those who make this trip.
VISITORS AND GUESTS - Photog Shilah Marshman was on hand to record the "drumming and the wrapping'. Bill Raus joined us for at least the umteenth time while he awaits formal membership. This will be Shilah's last visit we're told. She must change venue for her next internship assignment. Lots of thanks to her for so much support for our Club these past several months.
Next Week
My notes are sketchy regarding the meeting of the 22nd, but Pres. Dave won't let us down, I'm sure. The election of officers and directors has been moved back (is it back or ahead ?) to the meeting of the 29th which will also be our Yankee Swap gift exchange event. Bring a gift ($10 value tops) and see what you get in return as Yankees try to out-do each other with gifting.
Odds & Ends
Bill Raus and George Costello are hereby posted for membership for the second time. With approval they hopefully will be inducted on the 29th.
HAPPY BIRTHDAY for December goes out to Jason Ruel, 12/4; and to secretary Michelle Lapalme, this very day! Ta Da!
MAKE-UPS WITH Ease - Jason has found out how easy a make-up can be made via the Internet. Rotary eCLUB one has sent us certification that Jason has visited their Aurora, Colorado web site for 20-30 minutes, thereby qualifying for a meeting make-up. If you are falling short, why not give eCLUB one a try?
FOUNDATION SUPPORT- Just a reminder, if you have made a pledge to Rotary International Foundation, it must be made by December 30th ti be included in 2010 giving. Got a problem? Toni can help.
Paula F. gave a brief report on the BATTLE OF THE BELLS. Initial reporting indicates that Rotary (us, Dartmouth and Fairhaven) raised $2,200.00 for the Salvation Army on 12/4, almost twice that raised by Kiwanis.
And Finally
Beggar: :Say, mister, can you give me two dollars for a cup of coffee?" Citizen: I thought you always asked for ten cents for a cup of coffee." Beggar: "Yeah, I know, but now I'm putting all of my begs in one ask-it!"
Orren Robbins
GAM Editor