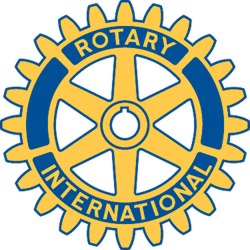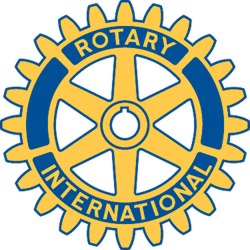 Rotary Club of New Bedford, MA - Weekly GAM
GAM...A nautical term describing the exchange of news between vessels departing from and returning to their ports...
2010
This Week
Today we chalked up another 'first' for Pres. Dave's RCNB - lunch 'off the menu' for each member on a delightful deck overlooking the Acushnet River, the New Bedford/Fairhaven Bridge, fishing boats and recreational craft, and the New Bedford skyline - at the newly opened F*A*T*H*O*M*S Bar and Grille on Popes Island.
Pres. Dave opened the meeting with a brief message of thanks to Jen Costa for hosting us last week at the Ocean Explorium, and one last plug for the District Foundation Seminar scheduled for Saturday at White's of Westport.
Courtney gave a quick round up of Rotaract activity - outlining a series of Fall events that include an Oxfam Hunger Banquet, Boys and Girls Club Halloween Party, and a Sports Clinic for Middle-School aged students.
Right after lunch Vice-Pres. Petertook us on a Scavenger Hunt and put us through some tests of ability and agility, where some pleasant surprises about a few of our members were revealed. He was also putting in a plug for a Boy Scout Camporee this weekend at Fort Tabor. This event is open to the public, and Peter welcomes all to visit and learn more about Scouting!
Highlight of the meeting was the installation of two new Rotarians - Dr. Bill Langbauer, sponsored by Carl Soares; and Courtney Kurzweil, sponsored by Pres. Dave; inducted by yours truly, OBR. Both were presented with Rotary pins, Club name badges, and membership kits; and both very obviously happy to be able to addto the service provided to the City, District 7950, and Rotary International. Please help make them welcome.
VISITORS AND GUESTS - Jean Fox, Director of Youth Council of WIB, guest of Pres-Elect Kathy; and Debbie Jackson, 1st Citizens friend and guest of Lisa Faria.
Coming Attractions
Jim O reminded us that the Motown Meets Jazz Festival is now just about a month away. Tickets, posters and sponsorship sign up materials will be available at next weeks meeting. He asks that volunteers also join him at a Jazz Fest meeting at 11:30AM prior to our Club meeting on Weds., October 6th.
Better Community Living's Sweet Temptations IV at the Seaport Inn on the evening of October 15th; and District 7950 Evening with the Pawsox "End Polio Now" event that same evening. Two different fund-raisers available to help provide needed assistance for others.
Next Week
Board of Directors meeting at Better Community Living - 4:30 PM on Tuesday, October 5th. Come along if you need a make-up, and want to know more about Club business.
For our regular meeting on Weds. the 6th - Pres. David is searching for a volunteer to give a Classification Talk. Let him know if you would like to star as our speaker!
Odds & Ends
Kristen proudly announced a scheduled Ribbon Cutting celebration at her new Chiropractic Home Office at 431 Brownell Avenue, next Friday, October 8th - 11:30AM. All Rotarians invited to attend.
And Finally
A vain clergyman asked an old man how he had enjoyed his sermon. "I liked one passage at the end very much," said the old man. "Which passage was that?", asked the clergyman. "The one from the pulpit to the vestry", said the old man smiling.
Orren Robbins
GAM Editor