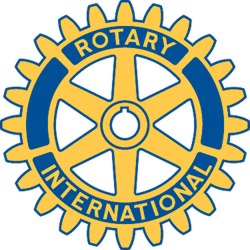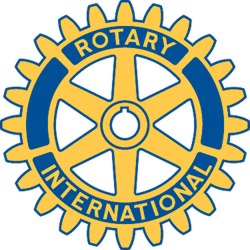 Rotary Club of New Bedford, MA - Weekly GAM
GAM...A nautical term describing the exchange of news between vessels departing from and returning to their ports...
2010
This Week
Literacy Day brought us two speakers - introduced by Vocational Service Chair Kathy Castro - Stephen Fulchino, Library Director for the City of New Bedford, and Library Assistant Danielle Therrein, with a very interesting and informative look at the Teen Room at the Lawler Library, and New Bedford libraries in general.
Mr. Fulchino explained the reason for, and concept of the Teen Room, and how it fits nicely into the New Bedford Library system's philosophy and role in the community. Ms. Therrein gave a colorful report on the programs and workshops that the Teen Room offers the youth of New Bedford. Lots of fun while involving High School and Middle School students in activities that improve and broaden their literacy skills.
Both speakers expressed much appreciation to our Club for having a major impact upon their ability to obtain funding grants for this project thanks to our significant donation.
VISITORS AND GUESTS - In addition to our speakers we were delighted to see Dr. Bill Langbauer, Courtney Kurzwiel, and photographer Shilah Marshman who recorded the program for our Club web site photo pages. Hmmmmm... Three very good prospects for Rotary membership, indeed. Good too, to see Linda Morad back with us today.
Coming Attractions
Dist. 7950 Foundation Seminar at White's on Saturday, October 2nd - 8:00AM - 1:00PM. Great opportunity to learn more about Rotary world-wide. The Club will pick up the tab! Sign up with Pres. Dave.
Jim O reports that the 2nd Annual Jazz Fund-Raiser is now confirmed for Saturday, November 6th at the Wamsutta Club. Motown Meets Jazz will bring a cast of artists for a "great night of music and dance". Volunteers are needed to ensure the success of this important event. Call Jim at work, at home or on his cell-phone at 508-837-8255 any time to sign up to help.
Next Week
Weds., September 15th - the Working Waterfront Festival organizers will join us for a look at that important annual waterfront event, slated this year for Saturday and Sunday, September 25th and 26th.
The following week, Sept.22nd - we will be holding our regular meeting, lunch and all, at the Ocean Explorium down on Union Street, and we'll see how that operation has changed since our first meeting there a year and more ago.
Odds & Ends
Still time (if you hurry) to sponsor a lobster in the YMCA LOBSTER RACES in conjunction with Downtown New Bedford Inc's Chowder Festival, downtown, Sunday Sept 12th, Dan and Tara have more info if you are interested.
UNITED WAY's "Live United" week will be full of activities from Sept. 13 thru 17th. Lots of volunteer opportunities and other events. Call Michelle, Carolyn or Sarah at 508-994-9625 if you'd like to help.
Rotary Club of Middletown, RI, 9th annual "Fort Adams in the Fall" CAR/TRUCK/MOTORCYCLE FESTIVAL October 3rd. Details from Pres. Carole Mitchell at 401-595-5900 or cbienenfeld@cox.net
Carole will be participating in the Schwartz Center WALK FOR CHILDREN again this weekend. She would love to have you be one of her sponsors.
Look for an e-mail from Tom Riley about OPEN WORLD!
And Finally
I sneezed a sneeze into the air;
It fell to the ground I knew not where.
But hard and cold were the looks of those
In whose vicinity I snoze.
Orren Robbins
GAM Editor