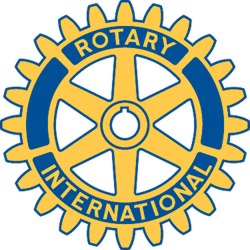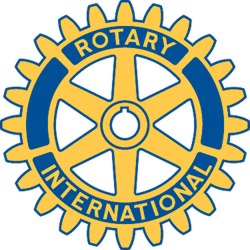 Rotary Club of New Bedford, MA - Weekly GAM
GAM...A nautical term describing the exchange of news between vessels departing from and returning to their ports...
2010
This Week
This was what I would call a full Rotary day, with events starting early in the morning, and lasting until it was time to start the regular meeting at 12:15 PM. Needless to say, Pres. David and a small contingent of members participated in both events, and those of us who stepped up for the luncheon meeting gave us a near-to-average attendance percentage for the combined day at the zoo events.
The 9:20 AM group of eleven Rotarians and fourteen guests were surely the winners of the day, participating in the feeding of Buttonwood Park Zoo's elephants Ruth and Emily, and thereby adding their names to the relatively small percentage of people, world wide, who have ever actually touched an elephant. I'm not sure this is significant in the realm of world events, but I am impressed. In the realm of Rotary International, though, this just might be a first for such a make-up experience.
The noon-timers (eleven of us) who were either too tired, too old, or too busy to make the early session, (or maybe even afraid of elephants) also had an interesting meeting with Dr. Bill Langbauer giving us a short video presentation on the value of small zoos and their contributions to conservation and education.
Pointing out again that the Buttonwood Park Zoo is highly regarded nationally as one of the best "small zoos" in America, a proud thing for New Bedford, indeed. His presentation "A Little Zoo in a Big Pond" was highlighted by an informative report on 'Red Bellied Cooters', a rare class of turtles, found apparently, only in Plymouth County.
Don't forget . . . this was a Million Dollar Meal day - each member is asked to 'pay up' whether in attendance or not, in support of the Rotary Foundation and/or our scholarship fund.
Coming Attractions
Hope you all read Jim Oliveira's e-mail on Wednesday morning regarding our second annual All That Jazz event, now scheduled for Saturday, October 23rd. This year's theme will be "Motown meets Jazz" and promises to be a real bell ringer!!!
.... and a brief reminder ofthe YMCA Lobster Races that will take place at Downtown New Bedford Inc's annual Chowder Fest on Sunday, September 12th - details from Dan or Tara.
And, the Ocean Explorium fund raiser FISH BOWL, set for Sept. 19th. Jen and Warren would love to have your support.
Next Week
September 1st - Pres Dave will head up the meeting himself. The following week, Sept. 8th, will be a program on Literacy in recognition of Literacy Week.
Odds & Ends
Rotarians with perfect attendance for the month of August were: Geneva, Dan, David, Paula B., Kathy, Lisa, Ellen, Carole, Sarah, Stuart, Rich, Ron M., Jim, Tom, Orren, Marc, Linda S., Bob, Carl, Mark and Nancy. That's half of our members - good work folks!! And, there may be more with make-ups early in September counting for August, too.
And Finally
I found this thoughtful 'five-way test' in my 1938 book of "humor" a few days ago.
If you, your lips would save from slips,
Five things observe with care;
Of whom you speak, to whom you speak,
And how, and when, and where!
Orren Robbins
GAM Editor