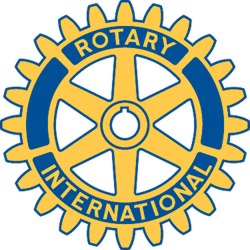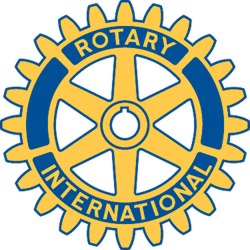 Rotary Club of New Bedford, MA - Weekly GAM
GAM...A nautical term describing the exchange of news between vessels departing from and returning to their ports...
2010
This Week
Six tables full of Rotarians and guests were treated to a sit-down luncheon and an introduction to six New Bedford school system seniors who were our 2010-2011 $1,000.00 Scholarship recipients.
Winners were Lenize Dos Santos, Kamisha Ferreira and Tejendra Patel, NBHS grads; and Niah Bradford, Erica Durocha and Zachary Letendre, from NB Voke. Each winner read their application request letters, giving Rotarians an insight into their qualifications and aspirations. Kamisha's letter was read by her mother Alicia Melicio, because she has already started school so she could not attend.
Presentation of the awards, emceed by Scholarship Committee chair Kathy Castro, were made by Carole and Rich, who personally sponsor three scholarships between them, and by committee members Linda S., Ellen, and Paula B. District Governor Charlie Murphy was on hand to give each scholarship recipient Rotary International theme pins and pens.
Special guests honoring the students were Andrew Kulak, Headmaster at NBHS; and Mike Gagliardi, Principal of Career and Technical Education at Voke. We were joined by several student's family members; Shila Mashman, from UMD took photos of the event; Courtney Kurzweil, UMD Rotaract representative also was a guest. If I have missed other guests, I apologize.
Pres Dave had the highest praise for the work of our Scholarship Committee headed by Kathy Castro: Paula B., Warren, Ellen, Carole, Rich, Sarah and Linda S.
Coming Attractions
YMCA LOBSTER RACES at the Downtown New Bedford, Inc. Chowder Fest on Sunday, Sept. 12th. Details from Dan or Tara.
OCEAN EXPLORIUM "FISH BOWL" - Sept. 19th - Jen and Warren looking for yoru support.
DISTRICT 7950 Foundation Seminar at White's on Saturday, October 2nd.
Next Week
Million $$$ Meal at the Buttonwood Park Zoo. Opportunity for those who show up at 9:20AM to participate in the feeding of elephants Ruth and Emily, and to visit the Zoo free of charge that morning. Lunch will be the M$M, also at the Zoo. There's a bit of a different twist to this M$M - Rotarians can brown-bag it with their own lunch, or purchase lunch from the Zoo cafeteria - and remember, the $14.00 fee still applies to all whether present or not. That's what a M$M is all about.
Odds & Ends
Tom happily announced that last week's request for host families for visiting "Open World" representatives was successful thanks to New Bedford, Fairhaven and Dartmouth Rotarians.
The RCNB turn-out at Pawsox Nite was slim - Pam and her son Michael did go, and despite personal conflict with her husband having surgery that day, and GPS sending them far-afield, she and Mike arrived just in time to represent us by marching with Rotarians and displaying our Club banner. Thanks Pam and Mike.
Courtney Kurzweil reported that acting school superintendent, Dr. Mary Louise Francis, has agreed to support the start up of Interact Clubs at New Bedford Schools starting this Fall because of her belief in teaching and supporting community service activities.
HAPPY $$$'s today came to $210.00 providing a bonus scholarship contribution to eachof the six winners, of $35.00 in cash!!!
Governor Charlie's guest, Tom O'Brien, spoke briefly about a movie "Fairhaven" that is about to be filmed here starting this Fall. Lots of locals, Charlie included, and local scenery will be featured. More on this later.
And Finally
Joe: "My uncle Willy has a new cedar chest." Moe: "No kidding, last time I saw him he only had a wooded leg."
Orren Robbins
GAM Editor