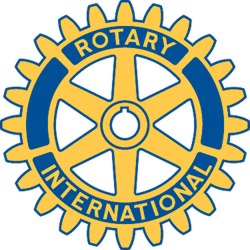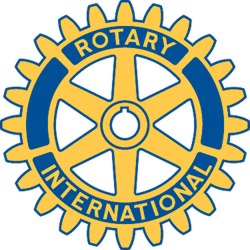 Rotary Club of New Bedford, MA - Weekly GAM
GAM...A nautical term describing the exchange of news between vessels departing from and returning to their ports...
2010
This Week
Pres. David was delighted to see five - count 'em five - tables of Rotarians and guests on hand today to greet and meet District Governor Charlie Murphy who joined us for his "official" visit and business meeting. Past RCNB president attending today were Tom, Stu, Jim, Ron M.,Carole, Sarah, Mark, Bob and OBR.
DG Charlie, a long-time Fairhaven Rotarian and three-time president of that Club, was our featured speaker, giving us a most interesting look into the events that solidified his Rotary philosophy of "Sevice above Self", and confirmed his desire to become involved in District leadership. Accompanied by vivid photographs he described the adventure, with Dorothy Cox, of the 'stolen wheelchair', his travels to Honduras, and his pledge to spend his Governor's year promoting the good works of Rotary world-wide.
His personal goals coincide perfectly with the goals set by RI President Ray Klingsmith: Elimination of Polio, Aiding persons with disabilities, Fighting hunger, and Helping youth. Kudos were expressed for members Tom and Jim for their work with the disabled through BCL and Lifestream. He also gave each member a pin with the 2010-2011 theme of "Building Communities - Bridging Continents", presented Pres. Dave with the new Rotary necktie with that theme interwoven, and gave Sarah a surprise birthday gift photo of her, him and Pres. Obama.
In other Club business, Pres. David presented checks in the amount of $2,000.00 each to Sarah, representing the YMCA's Share the Harvest, and to OBR representing the United Way of Greater New Bedford Hunger Commision.
VISITORS AND GUESTS - Pam brought son Michael, OBR brought granddaughter Amanda; and we were joined by Interact member Courtney Kurzweil.
Coming Attractions
July 31st - "An Evening at Gulf Hill", Dartmouth YMCA's feast fund-raiser - and August 7th "Clamboil by the Sea with Lobster", Mattapoisett YMCA's fine food fund-raiser. Each is $75.00 per. More on both at www.ymcasouthcoast.org.
....and don't forget Dist. 7950 Nite at the Pawsox on August 16th - watch Governor Charlie throw out his right shoulder -- ummm, I mean throw out the first pitch.
Next Week
I forgot to ask, and "they" forgot to tell.... so next week will be a suirprise (for some of us, at least).
But, looking ahead to August - mark your calendar for our annual scholarship award luncheon on Weds. the 18th; and the Club meeting at the Buttonwood Park Zoo on the 25th.
Odds & Ends
Jim is still working on this year's Jazz Fest - volunteers to help him are always welcome.
At the business meeting with Gov. Charlie RCNB got high marks for our deep involvement in community projects, and especially for our 2010-2011 pledge of $3,500.00 to the Rotary Foundation and $2,000.00 pledge to help eliminate Polio.
Still opportunities for young professionals (age 25-40) to apply for GSE trip to Scotland in October. Deadline for apps is August 15th. More info ask OBR, David or Ron M.
And Finally
Jadk: "Some of our congressmen drink more than they can stand." Hack: "How do you know?" Jack: "Why, I read in the paper the other day about one member who made a speech from the floor of the House!"
Orren Robbins
GAM Editor