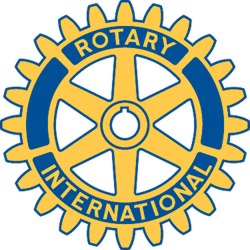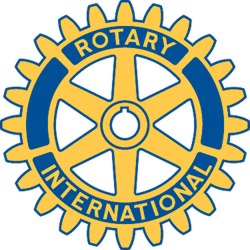 Rotary Club of New Bedford, MA - Weekly GAM
GAM...A nautical term describing the exchange of news between vessels departing from and returning to their ports...
2010
This Week
One of the great things about Rotary and Rotarians, is that when we have an especially important meeting we always have a great turn-out, and today was no exception as we filled the house with Rotarian well-wishers saying adieu to Pres Bob and aloha to Pres Dave, not to mention having a great meal and a lot of fun along the way.
First order of business was outgoing Pres Bob recognizing Club members with perfect attendance during his realm. They were/are: David Biggs, Alan Freitas, Tom Riley, Orren Robbins, Marc Shpritzer, Linda Silveira, the big guy himself, Pres Bob, and Nancy Wood.
Then he really got down to business thanking all of the members for their support, and surprising two members by awarding Paul Harris Fellowships to Community Foundation Chair Linda Silveira, and Treasurer Nancy Wood for their valuable role in the success of his presidential year. Each member of the Club alos received a nice gift of a set of etched Rotary glasses from Pres. Bob.
Acting as emcee, your humble GAM editor had the honor of opening the meeting, and also installing our 2010-2011 leadershipteam of: President David Biggs; President-Elect Kathy Castro; Vice-President Peter Ashworth; Treasurer Nancy Wood; Secretary Michelle Lapalme Oliver; and Board members Alan Freitas, Paula Freitas, Carole Johnson, Ron Kierstead, Pam Maloney, Rich Medicke, Linda Silveira, Nancy Wood and OBR, himself. Former Pres Bob was also installed as Immediate Past President.
The presentation of his "Past President" plaque and pin, and the ceremonial passing of the gavel from IPP Bob to Pres. David, mysteriously brought Alan Freitas to the front of the room to add another gift or two and a bit of humor, to say the least. With Bob eventually moving south to Tennessee it is only fitting that he has the proper attire, so he was given a dandy pair of bib overalls, corncob pipe, red bandana handkerchief, and straw hat, to ensure him fitting nicely into his retirement community. Alan's presentation was accompanied by a lengthy poem that we'll ask him to repeat one of these days.
President David's brief message concentrated on the theme of honor and service, as he gratefully accepted his role as the new President of the Rotary Club of New Bedford.
VISITORS AND GUESTS - Fall River Rotarian Bob Lundquest, owner of Mallard Printing who has helped us several times; Gerry Dupone, hubby of Nancy W; Ellen Gittlin's mom; and Courtney Kurz Weil, immediate past president of the Rotaract Club at UMass Dartmouth.
Coming Attractions
Rotary Club of Stoughton brunch at White's on Sunday, June 27th - 10:00AM to 1:00PM celebrating the 50th anniversary of the Million Dollar Meal. See Bob's June 9th e-mail for details.
RCNB Fellowship event - Friday evening, July 23rd - Dinner at the Country Club of New bedford, then onto the Zeiterion for the Festival Theatre's production of Gypsy. A $70.00 per person value, yours for only $40.00. Much more to come on this from Kathy C in the coming weeks.
Next Week
Pres. Bob's last official meeting before completely turning the reins over to Pres. David.
Odds & Ends
It's been quite a year under Pres. Bob's leadership. Lots of great programs, lots of valuable fund-raising events, and lots of just plain fun. Now let's all get behind Pres. David and his team for another year of Rotary service, and Rotary success.
Speaking of fund-raising - Jim O is heading up another Jazz Festival and can use some volunteers to join him in the planning. You don't have to be a Jazz fan.... just a Rotary fan, to be of help to him.
And Finally
Given the state of the economy, things are not all that bad.
"My business is looking up", said the astronomer.
"Mine is going up in smoke", complained the cigar maker.
"Mine is all write", chuckled the author.
"Mine is sew, sew", remarked the tailor.
"Mine is growing", the farmer boasted,
"Ours is pretty light", snapped the electrician.
"Mine is picking up", smiled the cheerful garbage man.
"Mine is looking better", opined the optician.
Orren Robbins
GAM Editor