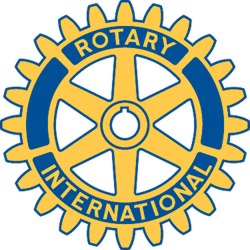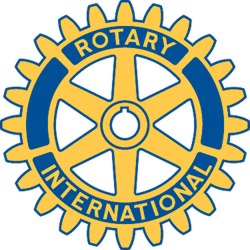 Rotary Club of New Bedford, MA - Weekly GAM
GAM...A nautical term describing the exchange of news between vessels departing from and returning to their ports...
2010
This Week
Homelessness, hunger and help was the message at this week's meeting presented by Jim Stevens, CEO and Founder of Gifts to Give, a non-profit mostly volunteer organization located in New Bedford's south end. Citing alarming statistics on the numbers of homeless and hungry children in Bristol County and the greater New Bedford area, Jim praised the work of volunteers and recounted the advantage provided to Gifts to Give by the miracle of having such a huge place to operate at such an extremely low rental.
Much of the secret for Gifts to Give's success is the support of other charitable organizations and area schools, and the fact that so many recipients of their assistance become volunteers who help others who are in need once they have been helped themselves. Gifts to Give serves approximately 1,000 children each month.
Jim, who commutes daily from his home in Boston, describes himself as a "son of the greatest generation" and a child of the sixties, who was born to help the homeless and impovished. He urged Rotarians to seek out young people who can be encouraged to volunteer to serve others, and also suggests that Rotary might consider sponsoring a quarterly "day of service" to support his work.
NEW ROTARIAN - OBR had the honor today of inducting our newest Club member, Jason Ruel, who was sponsored by Pres. Bob. Jason is an area native, living in Mattapoisett, and his classification is Financial Services. He has a very interesting background that we will surely find out more about when he gives his classification talk at a later date. Please get to know him and make him feel welcome to our club.
VISITORS AND GUESTS - In addition to Jim and Jason, we were joined by Alan's wife Joy, Fall River Rotarian Diane Cloutier, and incoming president of the Rotary Club of Warren/Barrington, RI, Mary Moreira.
Coming Attractions
Visitor Mary put in a plug for her Club's biggest fund-raiser, the Quahog Festival, taking place in Warren the weekend of July 17th and 18th. Billed as "all types of seafood, chowder, hot dogs, hamburgers, soft drinks, beer and wine, combined with music and an Art Festival, make this a must-go event. Check with Mary at mmrhody@fullchannel.net for more info.
STOUGHTON MILLION-DOLLAR MEAL - Sunday, June 27th at White's. Celebrate the 50th anniversary of the Million $ Meal. Stoughton is asking all Dist 7950 Clubs to join them. The event is from 10:00AM ro 1:00PM with a full breakfast buffet brunch. Call Pres. Bob if you'd like to go.
7950 NIGHT AT THE PAWSOX - Mark your calendar for August 16th to join new District Governor Charlie Murphy and others for our annual Night at the Pawsox event. More on this to come.
Next Week
Installation of Pres-Elect David, officers and directors at our noon meeting June 23rd. We'll have a sit-down meal with "salad, Scrod, Chicken Marsala, New York sirloin, rice, assorted veggies, rolls, coffee and desert", all for our usual $14.00 fee. DAVID NEEDS TO BE ABLE TO GIVE THE WAMSUTTA AN ACCURATE HEAD COUNT - PLEASE CALL OR E-MAIL HIM TO CONFIRM YOUR ATTENDANCE.
Odds & Ends
ROTARY LICENSE PLATE PROGRAM - I'm trying (without success at this writing) to get an up-date on this project. Info on signing up is included in the District Governor's May 2010 Newsletter if you're interested.
HAPPY BIRTHDAY (belated to Peter Ashworth and Paula Freitas (May 27th) and (un-sung) to Roy Nascimento (June 14th).
Rumor has it that out-going Pres. Bob has a nice gift for every member of the Rotary Club of New Bedford. Better plan to attend next week just in case he runs a little short of supply.
And Finally
First guy: "What's your gross income?" Second guy: "I have no gross income." 1st guy: "No income at all?" 2nd guy: "No gross income. I have a net income. I'm in the fishing business!"
Orren Robbins
GAM Editor