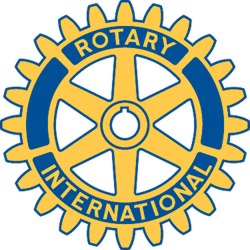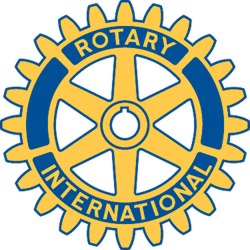 Rotary Club of New Bedford, MA - Weekly GAM
GAM...A nautical term describing the exchange of news between vessels departing from and returning to their ports...
2010
This Week
After weeks of speculation and anticipation, the Roast Carole Johnson meeting today was a lot of laughs, a ton of fun, a bunch of jest, a gaggle of gags, and dishes and dishes of good wishes for its star . . . Carole
Pres. Bob started the fun with the opening salvo, suggesting that while Carole was not really particularly old, it did seem strange that she had stage coach ticket stubs in her purse. Then emcee Alan, dressed in black tie and cummerbund, and doing his best Red Buttons (does anyone else remember him?) act, really got the ball rolling. Mark, Stu. (Alan's wife) Joy, Linda, Tom, OBR, Jim, Dan, Kristen, Michelle L., and others, all got into the act. Members (David and Rich) and former members (Jeff Miller and Celeste Warner) in abstentia - got their digs in too. Eventually everyone in attendance got on the mic one way or another, either subtly picking on Carole, or simply wishing her well in her retirement.
Meanwhile, back on the ranch, Carole nonchalantly continued to eat her lunch and take in the abuse with her usual quiet dignity, and after all had had their say, and after receiving a magnificent bouquet of flowers from Joy - gave a brief but meaningful "thank you" to all for their love and friendship and caring. Another wonderful example of Rotary at its best!
VISITORS AND GUESTS - Joy Freitas, Laurie Biggs, Sue Cunha (friend of Carole) and visiting Rotarian Lee LaPerriere, from Summit Rotary Club of Greensboro, NC.
Rotarian Lee gave a brief plug for a project of Summit Rotary Club - sales of a book that would give the Rotary Foundation $3.00 from every sale - that doubling to $6.00 with the matching grant from the Gates Foundation. This will be an e-mail sale - we don't have details now, but will get them to you by next week at the latest.
Coming Attractions
Pres- Elect David has announced that the induction of he and his officers and directors woud take place at a slightly extended regular meeting of our Club at the Wamsutta on Wednesday, June 23rd.
Next Week
June 9th looks like a very interesting meeting with our guest speaker Nelson Katz, a former secret service agent in the JFK Whitehouse era. Better plan to come along for that one!!
Odds & Ends
Thanks to Jen Costa for filling in as the attendance taker today in Nancy's absence.
Warren announced that he has raised an additional $200.00 and is working on getting one more water filter to be sent to Haiti.
Jason Ruel has been approved for membership by the BOD, and will be inducted June 16th.
Twenty three Rotarians had 100% attendance for the month of May - that's over half of our Club members. Congratulations to Toni, Peter, David, Kathy, Lisa, Alan, Paula F., Carole, Ron K., Sarah, Michelle L., Stu, Rich, Ron M., Tara, Tom, OBR, Marc, Linda S., Bob, Carl, Mark and Nancy.
And Finally
Her Husband: "But why should we move? You were perfectly delighted with this neigbgorhood when we came here a year ago." Mrs. Chatterton: "I know I was, but I'm tired of talking about the same old neighbors for a whole year."
Orren Robbins
GAM Editor