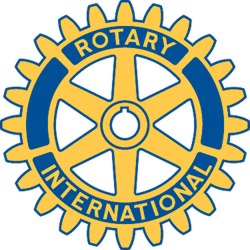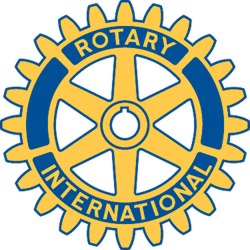 Rotary Club of New Bedford, MA - Weekly GAM
GAM...A nautical term describing the exchange of news between vessels departing from and returning to their ports...
2010
This Week
Since your humble GAM editor was missing from Rotary this week, he owes a great deal of thanks to Paula Freitas, Ron Kierstead and Nancy Wood for providing him with enough notes to assemble today's epistle.
Pres-Elect David was greeted by a houseful of visitors and guests as he opened the meeting - the largest contingent being a group of thirteen women from the (all female) Rotary Club of Carmellias (sp?), Mexico who were escorted to our meeting by Fall River Rotarians Carolyn Smith, Ken Ferreira, and Mary Creed; and our own Ellen G.
Mary introduced the visitors and gave an informative report on their many service projects which include wheelchairs, and cataract surgery for the elderly; and providing eyeglasses, dental health care, and even toys for children. They also have had water piped into a small village and are in the process of applying for a grant that will provide additional water services to that area.
VISITORS AND GUESTS: The aforementioned Fall River Rotarians, and special guests of honor District Governor Terry Humfryes and his wife Mary, who will be joining the Mexican contingent for a visit this evening (Thursday). We were also joined again by Jason Ruel, friend of Pres. Bob, who has submitted an application for membership.
Coming Attractions
David reminded everyone about the June 3rd induction program at the Century House. Fairhaven Rotarian Charlie Murphy will be officially crowned District Governor, and Presidents of Dartmouth, New Bedford and Fairhaven will also be inducted. Still some open seats, I believe. Call Pres. Bob if you'd like to go.
Jim Oliviera is planning our second annual ZAZZ Festival - He's issuing a request for volunteers to help with the planning of this important fund-raising event.
Next Week
June 2nd is "be nice to Carole if you can" day. Alan will be the emcee for Carole's Roast, assisted by a distinguished table of Roasters. Should be a lot of fun, maybe Carole will have fun, too.
...and the following week - June 7th program will be Norman Katz - retired Secret Service Agent from the JFK days in the Whitehouse. You don't want to miss that one.
Odds & Ends
BOARD MEETING at Pres. Bob's house on Tuesday, June 1st, 5:00 PM. If you plan to attend for a make-up, please call him for directions.
DG Terry presented our ADG Ron Melbourne with a gift and thanks for his support during Terry's Rotary Governor year.
HAPPY $$$'s today, collected by Linda Silveira, totaled $137.00 which was given to the visiting Mexican Rotarian guests to help their good work.
It would appear that perhaps some of the Bob Smith luck has found its way to other Rotarians. Kathy Casto reports that OBR and Sarah's husband, both won valuable raffle prizes at the Festival Theatre event last Saturday evening.
Apologies - I forgot to report Happy Birthday to Nancy last week - so do so now.
And Finally
History Lecturer: "Can any of you tell me what makes the Tower of Pisa lean?" Corpulent Lady: "I don't know, but if I did I'd take some myself."
Orren Robbins
GAM Editor