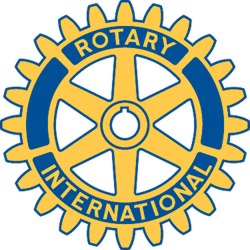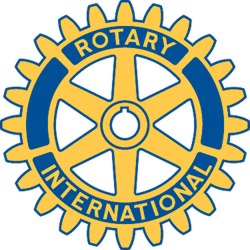 Rotary Club of New Bedford, MA - Weekly GAM
GAM...A nautical term describing the exchange of news between vessels departing from and returning to their ports...
2010
This Week
Today's meeting was what you might call an important, informative, interesting, international, invigorating, insightful and intercontinental affair, with a full house, made so by the visiting Group Study Exchange team from Uruguay, visiting District officials, isiting Rotarians and a couple of just plain (but not insignificant) guests.
First distinguished guest, District Governor Terry Humfryes, got the action underway as he was called upon py Pres. Bob to present Paul Harris recognition pins to Rich Medicke and to Bob himself. For Pres Bob the award was his second, and for Rich his Third. Paul Harris Fellowships are awarded to Rotarians who give $1,000.00 to the Rotary International Foundation. Each additional $1,000.00 donation earns another Fellowship recognition. OBR was called upon by DG Terry to pin the two recipients.
Completing the Paul Harris portion of the program, Toni Arsenault distributed information sheets listing the nine RCNB Paul Harris members, the recognition levels required, and included an easy to use PHF Direct Deposit Program application form for members to use for painless sing up entry into the Fellowship via First Citizens' Federal Credit Union.
Second distinguished guest, Pawtucket Rotarian Bill Hunt, representing the Group Study Exchange committee, outlined that program which brings young professionals from other countries to our District for a month-long exchange of information and interaction, each year. The group visiting today consisted of four non-Rotarian young women from Uruguay and their Rotarian group leader, Nora Pinon, an architect from Moldonado, Uruguay. Each gave a brief report of their family and professional status, and a quick look at the geography and economy of their country. Bill thanked Ellen, Marc and Bristol County Savings Bank for assistance in planning the visit to our area, and (visitor) John Arruda, a Rhode Island ARC volunteer who provides transportation for the GSE group for their month-long visit.
OTHER VISITORS - Distinguished Rotary District guests were DG-elect Charlie Murphy, DG-nominee Bill Vangel, DG-nominee-designate Joe Clancy and our ADG Ron M. Fall River Rotarian Carolyn Smith, wife of President Bob, joined him; and David brought N.B. Chamber Ambassador Darren Fredette.
Coming Attractions
Paula B. says Rotarians are invited to attend UMass Rotoract Banquet at the Peking Garden Restaurant in Dartmouth on Tuesday evening, May 4th. She's got details if you'd like to go.
District Conference in Hyannis May 14-16. Book for the whole event or day-trip one or more of the three days. Pres. Bob and ADG Ron have details.
Next Week
Our program will be a most interesting and entertaining author, Michael King. Should be fun!
Odds & Ends
Kathy Castro has prime Red Sox tickets - $150.00 value - to raffle off in support of Little Theatre of Fall River. $5 for one - $10 buys three. She'll have tickets next week, too.
Reminder - please plan to bring food items for the District Food Drive next week and/or the following. Pres. Bob will deliver them to the District on May 14th.
Still time to volunteer for the GSE Team Leader role, or submit team member candidates for the Scotland trip in October. Check District web site or last week's GAM fir details.
And Finally
Professor to student - "How die you enjoy the geology lecture?" Student - "Just fine, I was rocked to sleep!"
Orren Robbins
GAM Editor