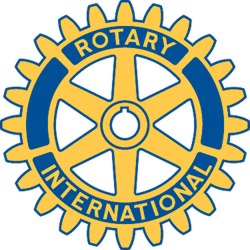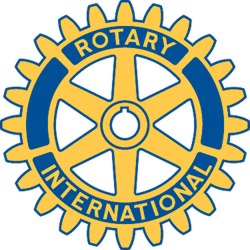 Rotary Club of New Bedford, MA - Weekly GAM
GAM...A nautical term describing the exchange of news between vessels departing from and returning to their ports...
2010
This Week
Well, things had settled down a bit since our Wine Festival fund-raiser, so this week things got stirred up again with a little 'fun'-raiser - our surprise wedding shower for treasurer Nancy!
. . . And, she was surprised when Pres. Bob called her up to a seat of honor in front of the podium, and she realized tha she was to be the center of attention for a bit. She was presented with a pre-wedding cake (that we all shared), and a gift certificate to a shop with an unfamiliar name (to me anyway), but sounded a bit like a Victoria's Secret kind of place.
I had the pleasure of writing and reading an 'Ode to Nancy' - If you weren't there I'll give you a peek at the start and the finish. If you were there... Oh well. "This is an ode to our friend Nancy Wood. On the eve of her wedding, be it understood, That marrying Gerry has long been her goal".... Yadda, yadda, yadda..... "When the preacher asks solemnly, 'Nancy, do you?', Remember the answer is 'damn right, I do!' You betcha, hot diggidy, yup, whoopee and yes, Then wrap up the ceremony with the Four-Way-Test!"
BACK TO BUSINESS - Sarah gave a financial re-cap of the wine fest noting $13,325.00 in the bank, and a potential for final tally of between $17,000.00 and $18,000.00. A very good event, to be sure. Good news from raffle income at $1,350.00, and auction action of just over $3,500.00. No question, the food was reported as better than last year and the musical entertainment got raves, too.
VISITORS AND GUESTS - Celia Smith, Florida Rotarian who helped organize the new credit card system used at the wine fest, joined us for either her third or fourth visit.
Coming Attractions
Pres. Bob is still asking for members to join him at the District Conference in Hyannis on May 14-16th. A golden opportunity to really discover Rotary at it's best. Don't forget - you can go for the entire event or day-trip it, one day at a time. Pres. Bob suggests a one day visit on Saturday as the best alternative if you can't make the entire conference.
FOOD DRIVE - District 7950 is having a food drive at the Hyannis Conference. Pres. Bob is urging our members to bring food items to our meetings on May 5th and 12th that he will take with him down to Hyannis on the 14th.
Next Week
Our program will be in the hands of Ljuba Marsh, Principal of the Global Learning Charter Public School in New Bedford; and her associate, Development Director, Stephanie Wick. Should be very enlightening.
..... and, coming up on April 28th - we will be hosting the visiting Group Study Exchange team at our noon meeting.
Odds & Ends
Marc S. gave a brief update on the multi-club food drive just completed. While the overall success seemed a bit on the soft side, 16 or 17cartons of food-stuffs were donated to the United Way Hunger Commission. Thanks, Marc, for leading the effort on this project.
Pres. Bob's re-cap of activity and information at the District Assembly a couple of weeks ago, is getting rave reviews. Good time to gain some additional Rotary knowledge by reading his summary now on the RCNB web site.
Correction on last week's list of 100%-ers. Peter Ashworth, whom I put on the list, got truthful and pointed out my error. He was a bit shy of that attendance accomplishment.
And Finally
Neighbor #1 - "So, Mrs. Potter got a divorce. What was the trouble, incompatibility?" Neighbor #2 - "No, merely the first two syllables!"
Orren Robbins
GAM Editor