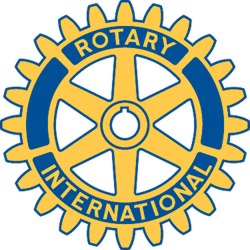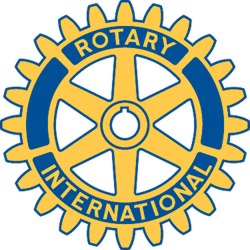 Rotary Club of New Bedford, MA - Weekly GAM
GAM...A nautical term describing the exchange of news between vessels departing from and returning to their ports...
2010
This Week
With Pres. Bob traveling to the (somewhat) sunny South, Pres-Elect David took the reins at this week's meeting, and sad as it may seem, for some reason we hardly missed the "other guy"! (That orta teach him not to abandon his flock.)
Our program today featured Stu Lawrence, by popular demand so to speak, giving an inspiring classification talk. Stu, a member of our Club since 1989, was born in 1940 on a farm in South Carolina. His early years growing up on a farm were busy from dawn to dusk, and his life significantly impacted, especially by his grandmother whom he credits with much of his present day philosophy and life-style.
His family moved to New Bedford in 1950 where one of his first "new" experiences was eating Hot Dogs - a tast that he still cherishes to this day. He graduated from NB High School in 1958, and from New Bedford Institute of Technology in 1962 and began his 48-year banking career shortly after.
Stu credits his wife and family for his good fortune - openly expressing love for whi wife, children and grandchildren as an important part of his satisfying life today. Although he has cut back a bit recently to spend more time with his family, he still looks forward to several more enjoyable years of doing a job that he clearly loves - banking.
VISITORS AND GUESTS - We had the pleasure of meeting Nicholas Pappas, an insurance agent with the well known Sylvia Group, who was a guest of Linda Silviera. It was also nice to have former Rotarian Tammy DeBarros back for a visit.
Coming Attractions
Both Julie and Tom put in powerful last minute plugs for the Mardi Gras with Matty B event at the Hawthorne CC on Saturday evening, Feb. 20th. Sounds like a lot of fun and fine food. Tickets still available from Tom or Julie. Ever hear of King Cake? Guess you'll have to go to Mardi Gras to find out.
Things are rapidly falling into place for the April 8th Wine Festival at Cafe Funchal. The posters are ready for posting, tickets are ready for selling, and auction items still in demand. This is our major fund-raiser for the years and everyone's support is needed. Paula F and David have extra tickets. Call either one if you run out.
Jen Costa and Warren Gibbons have announced "Blues for the Blue", a fund-raiser at the Ocean Explorium on Friday, April 9th. Billed as live music, dancing, food and fun, as well as Science on the Sphere and other exhibits. $40.00 tickets allow a $25.00 tax deduction.... all for a good cause.
Next Week
Remember - No regular meeting on Wednesday, the 24th. Our official meeting for the week will be at the Salvation Army HQ at noon on Thursday, the 25th. This will be a Million$ Meal, so every one pays even if they do not attend, so might as well come along. The food, catered by Riccardi's, is always plentiful and mighty delish!
Odds & Ends
Pam announced that Geneva is trying to get donations to help with printing of flyers for her Haitian relief porject. If you can help, please call Geneva or Pam.
Yolene Lois is posted for membership for the second week.
We missed Rich Medicke's Happy Birthday on Feb. 13th, and will miss Happy Birthday to Pam Maloney on the 19th and to Paula Borges on the 21st, so let's hear it for them all now! HAPPY BIRTHDAY******, $$$$$, !!!!!!, %%%%% AND MANY HAPPY RETURNS! ... hmmmm ...that was pretty good singing!
And Finally
Mark: Did you hear the one about the wooden wedding?
Clark: I'll bite.
Mark: Two Poles were married.
Orren Robbins
GAM Editor