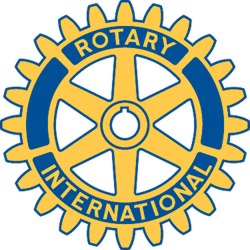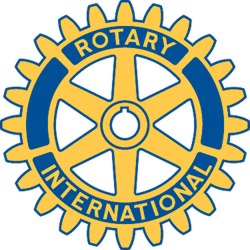 Rotary Club of New Bedford, MA - Weekly GAM
GAM...A nautical term describing the exchange of news between vessels departing from and returning to their ports...
2010
This Week
Busy, busy, busy - from pledge to four-way test this week's meeting was a classic example of what Rotary membeship is all about.
Our primary speaker was Matthew Brodeur, vice-president of the Shrine Club of Southeastern, Mass. In a unique exchange of information, arranged by Pres. Bob and the Shriners, Matthew visited with our Rotary Club to talk about Shriner programs and purpose, while our past-pres Sarah visited the Shriner meeting (same time and place) to inform them of the works and wisdom of Rotary.
Shriner history begins around 1922 and has grown immensely since that time, based upon its primary purpose of caring for children. This 'Brotherhood of Men', formed with the mission of 'love, charity and patriotism' now supports 22 Children's Hospitals in the United States, Mexico and Canada that have treated over 835,000 children with special needs such as spinal cord damage, cleft palate, burns, orthopedic problems and other disabling illnesses. . . All at little to no expense to the children's families. For more info on this unique organization, go to www.shriners22.org
Also, as part of today's events, Pres. Bob welcomed Peter Durant, executive director of the Community Boating Center, and presented him with a check from the Club in the amount of $250.00. Peter gave us a brief look at the boating project that provides training and assistance to boys and girls, aged 5 to 18, noting that 60% of participants get into the program on scholarships, where our gift will be used. The program has 60 boats, and last year served 579 area children. More on this from www.communityboating.org
And, not to be overlooked, today OBR had the pleasure and honor of inducting Chamber President, Roy Nascimento, into Rotary membership. Roy, as a Chamber of Commerce leader,knows what service is all about, and will be a valuable asset to our Club. Roy was proposed for membership by David Biggs. Be sure to meet him, make him welcome and get to know him better.
VISITORS AND GUESTS - In addition to Matthew and Peter, we welcomed Jen Costa's guest, Lindsey Rocha, whom I expect we will be seeing moe of in the weeks to come. We also were dfelighted to see for the second time, Abdalhamid Elbarawy (call him Abdul), BCC student from Egypt who is being mentored by Pres. Bob.
Coming Attractions
District 7950 pre-Pets meeting Saturday, January 30th, at White's. A marvelous opportunity to gain more insight into Rotary. Meeting runs from 8:00 AM 'til 1:00 PM. Pres. Bob says the Club will pick up the tab for any interested member. Let him, Ron M., or David know if you'd like to go.
Next Week
The first 2010 Wine Tasting committee meeting is scheduled for 11:30 AM on Wednesday, January 20th, at the Wamsutta just before our regular meeting. PP Sarah needs lots of volunteers so if you can help, please come. It's time to get started on publicity, promotion , auction items, etc. This will count as a make-up, by the way!
Odds & Ends
Our second week of Calendar Raffle prize winners produced the following winners. Maria Andreza, Carole Johson, Carolyn Smith, Bob Smith, Bob Smith, Jeffrey Vaz and Jim Reid. Rich Medicke and visitor Abdul, helped with the drawing. (Definitely a trend developing)
Treasurer Nancy says that there's still a few dollars from Calendar Raffle ticket sales that have not been turned in. If you're holding some of this, please get it to Nancy ASAP! Thanks.
Geneva announced a used clothing and shoe drive effort to support earthquake stricken Haiti. She says "If you will give, she will arrange pick up". This is certainly a good cause that needs a lot of help.
Happy $$$s today totaling $74.00, were given to Matthew Brodeur as a donation to the Shriners Hospitals.
Last week we noted second quarter 100%-ers. First half Rotary year 100%-ers now are: David Biggs, Alan Freitas, Tom Riley, Orren Robbins, Marc Shpritzer, Linda Silviera, Bob Smith and Nancy Wood. Congratulations to all.
And Finally
"When the Judge ruled that Caldwell had to pay alimony, how did he feel about it?" "Chagrined." "And, how did his wife feel about it?" "She grinned!"
Orren Robbins
GAM Editor