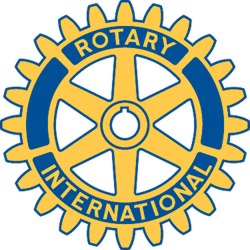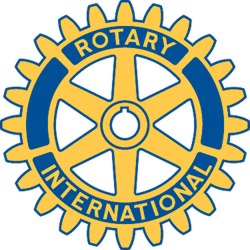 Rotary Club of New Bedford, MA - Weekly GAM
GAM...A nautical term describing the exchange of news between vessels departing from and returning to their ports...
2010
This Week
To say that David Biggs has had an interesting life would be the understatement of the year - David Biggs has had an incredible life story that captivated our membership as he gave his classification talk this week. His life, from an eight-year-old paperboy to his present business - "Biggs-Partners & You, Communications" is filled with adventure, danger, variety, pride, humility and help. On the quiet side, it included work as a congressional aide, and more recently marketing, sales and writing for The Standard-Times, and now marketing and communication, and workforce development.
But, perhaps more significantly, David is a veteran of the Vietnam War, where he served his stint in the US Airforce, flying dangerous missions over the Gulf of Tonkin for many thousands of hours.... an experience that left him with his exceptional attitude toward life and his dedication to service.
He credits the birth of his daughter with changing his life, and motivating him to settle down and become the father that he never had as a child. He also cites his early involvement with Church and Boy Scouts; and now with Rotary, having a major impact on his life. He is what I call a Rotarian's Rotarian, and we are lucky to have him on our leadership team.
Those of you who missed this talk missed a remarkable story of the life of our President-Elect.
VISITORS AND GUESTS - A very special young man joined us today: Abdalhamid Elbarawy (he says "call him Medo") an engineering student from Egypt who is being mentored by our Pres. Bob.
Coming Attractions
A ways off, but Julie has begun plugging "Mardi Gras with Matty B" - a fund-raiser to benefit Better Community Living - on February 20th. Wine, food and friendship at the Hawthorne CC - put it on your calendar.
ADG Ron announced a Rotary District event - Mid-Year Pre-Pets - Saturday, January 30th at White's. Officers and directors are encouraged to attend to learn more about Rotary. Pres. Bob says that the Clyb will pick up the tab for any member who would like to go. Let Bob, Dave or Ron know if you are interested.
Next Week
Our guest speaker will be Richard Greenahlgh, bringing us up to date on the Shriners. We will also be inducting new member Roy Nascimento, NB Chamber of Commerce president, sponsored by Dave Biggs.
Odds & Ends
For the second quarter of our Rotary year, congratulations to the following for maintaining 100% attendance: Peter Ashworth, David Biggs, Kathy castro, Alan Freitas, Sarah Lamothe, Stu Lawrence, Tom Riley, Orren Robbins, Marc Shpritzer, Linda Silviera, Robert Smith, Mark Treadup and Nancy Wood. In second place with 91% attendance: Geneva Anthony, Toni Arsenault, Lisa Faria, Paula Freitas, Carole Johnson and Michelle Lapalme. Congratulations to all.
Our first week's Calendar Raffle prize winners were: Jan 1st - Rich Medicke; Jan 2nd - Carolyn Smith; Jan 3rd - Francis Cox; Jan 4th - Orren Robbins Jr.; Jan 5th - Geraldine Cox; Jan 6th - Geraldine Cox. Do we detect a trend here???
Board Meeting Tuesday, January 12th - 4:30 PM at Better Community Living. Pres. Bob points out that while incoming board members are not required to attend, they are welcome and encouraged to come and see what board membership is all about.
And Finally
Friend: "So, you're down to the seaside now?" Neighbor: "Yes, and it's great. By the way, speaking of seaside, if a man gets a biff in the eye and it swells up like a mountain, doesn't it follow that the other side of his face is the see-side?"
Orren Robbins
GAM Editor