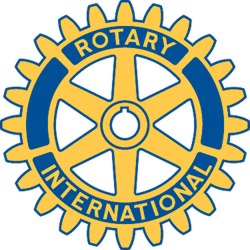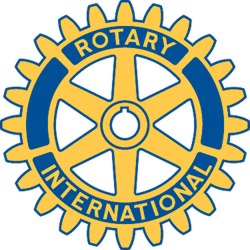 Rotary Club of New Bedford, MA - Weekly GAM
GAM...A nautical term describing the exchange of news between vessels departing from and returning to their ports...
2009
This Week
The true spirit of Rotary was certainly in play at this week's meeting! Pres. Bob was at his best bringing fun and fellowship, community service, and Rotary business together, as we enjoyed our next-to-last 2009 Club gathering.
Dealing with community service, he welcomed Derek Heim, YMCA Dartmouth leader, and presented him with a check in the amount of $4,442.00, a share of the proceeds from our April wine tasting event, in support of the Share the Harvest program.
Pres. Bob also presented Marc Shpritzer with a check in the amount of $100.00 for the Habitat for Cats project, a humane organization protecting pets, that is managed by Marc's wife.
Keeping the community service theme alive, he also presented Pres-elect Dave Biggs with a check for $1,000.00 for the Veterans Transitional Housing group in support of that organization's "Veteran of the Year" program and in thanks for their support of Rotary activities.
The Paulas' were active, too, with Paula Freitas reporting on the outcome of December 5th Battle of the Bells. Rotary Clubs (including Fairhaven and Dartmouth) raised just shy of $2,000.00 for the Salvation Army, beating Kiwanis quite solidly in this annual service project.
Paula Borges then reported on last weekend's Rotaract meeting that she and Pres-Elect Dave attended at UMass. Activity with Rotaract is drawing more and more attention with plans to hold joint meetings with Fairhaven and Dartmouth in the works.
Now, with all that activity accounted for, the next order of business was the annual December election of officers and directors, as required by RI and District policy. The slate, presented by Pres. Bob was overwhelmingly approved as follows for Rotary year 2010-2011. Pres. David Biggs - Pres-Elect Kathy Castro - VP Jennifer Costa - Treasurer Nancy Wood - Directors: Carole Johnson, Alan Freitas, Ron Kierstead, Paula Freitas, Pam Maloney, Nancy Wood, Peter Ashworth, Linda Silveira, Orren Robbins and Rich Medicke.
Then, with all that, and lunch now eaten, members turned to the project of wrapping gifts for the homeless children at Bridge House. After the close of our meeting, a group joined Pres. Bob bringing those gifts to the Bridge House and presenting them to the children there. Fortunately, Santa Claus himself, had a bit of spare time and was able to join the group bringing an extra level of excitement to the visit. Thanks to all who helped.
VISITORS AND GUESTS - In addition to Derek Heim, we were joined by Joy Freitas (who helped with the wrapping), and former member Andy Gregoire came for a visit.
Next Week
There will not be a Club meeting on Weds, December 23rd, so our next meeting will be December 30th when we'll have our Holiday Celebration and Yankee Swap. Everyone is asked to bring an un-wrapped gift ($10.00 value avg) to exchange and either keep or lose when the Grinch has his or her choice.
Odds & Ends
Our January Board meeting will be Tuesday, Jan 12th, rather than the 5th as previously announced.
CALENDAR RAFFLE - Our January fund-raiser is just around the corner. PLEASE SELL THOSE TICKETS to ensure success. $9.99 for 31 chances to win up to $500.00 is one of the best bargains around. David Biggs will have the extra tickets for the next couple of weeks, so if you are sold out and need more, just give him a call.
Happy Birthday whis week goes to Michelle Lapalme! Ta-Da!.... we just gotta work on our singing!
In a last-minute appeal for help to provide Christmas for one of our struggling members, Happy $$$s today raised $342.00, thanks in good part for a $100.00 contribution from one of our most generous givers.
And Finally
The teacher was telling her class little stories in natural history, and she asked if anyone could tell her waht a ground-hog was. Up went a little hand, waving frantically. "Well, Carl, you may tell us what a ground-hog is. "Please, ma'am, it's a sausage." was the reply.
Merry Christmas to all, and I'll be back next week with another GAM!
Orren Robbins
GAM Editor