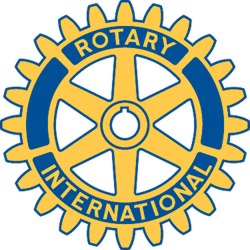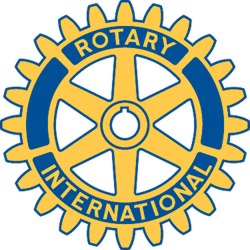 Rotary Club of New Bedford, MA - Weekly GAM
GAM...A nautical term describing the exchange of news between vessels departing from and returning to their ports...
2009
This Week
Can't t think of a busier Wednesday with this week's regular meeting being supplemented by the wonderful experience of District 7950's annual Rotary Foundation/Paul Harris Dinner event that same evening.
Our mid-day guest speaker was Karen Keefe, Community Relatons Manager for MassRelay, with a most intriguing presentation on the service of that organization to deaf and speech disabled persons. Karen, herself born deaf and with speech problems, told of overcoming those problems and her subsequent involvement in helping others with similar problems be able to enjoy fuller lives through the MassRelay system. MassRelay services make it possible for deaf and speech disabled folks to communicate by telephone with friends, family, and perhaps more importantly, health and other services providers.
Making your business more user friendly is her goal, and she is available to meet with anyone wanting to learn more. Karen can be reached at 617-332-1651 or outreach@massrelay.com
..... and, thirteen RCNB members and two guests enjoyed Rotary fellowship, information and inspiration at the Venus De Milo restaurant in Swansea during the evening event. Guest speaker at that gathering of over four hundred District 7950 Rotarians and guests, was Frank J. Devlyn, Past Rotary International President, with as stimulating talk about Rotary service and Rotary Foundation support, from his world-wide viewpoint experience.
Coming Attractions
With just over a week left between now and Sunday, November 29th, attention to Breakfast with Santa support is key. Sarah reports satisfactory sales of placemat ads, and stresses ticket sales importance. If you need more tickers, simply call her and she will get them to you.
Kristen reported on January's Calendar Raffle progress, noting that five gift certificate prizes have been secured, and that calendars are ready for printing. These should be available by the Breakfast with Santa event and members can pick them up then or at the following weekly meeting.
The December board meeting will be Tuesday, December 1st. Keep that, and Breakfast with Santa in mind if you need a make-up or two. Everyone is encourage to attend both.
Next Week
There will be no Rotary meeting on Wednesday, November 25th, the day before Thanksgiving. The next meeting will be Weds., December 2nd, with a surprise in store!
Odds & Ends
Add one more veteran to last week's Veteran's Day list. Ron Kierstead served in the US Army for several years from 1969 to 1975. A-ten-shun! Sal-ute!
Nice to see Limpin' Linda for the first time in quite a while. Welcome back to a valued Rotarian.
And Finally
First Hobo: (surveying stream of pleasure seekers strolling by) "I hate Holidays!".
Second Hobo: "Yes, makes yer feel common when nobody ain't workin'."
Orren Robbins
GAM Editor